The government has got Internet Service Providers (ISPs) to block 827 websites with pornographic content in India. The instruction has been given based on an order of the Uttarakhand High Court, which reinstated a government order in 2015, on the grounds that watching porn promotes sexual assault.
However after the government failed to get the ban implemented, they have now got their way, armed with a court order.
A horrifying gang rape at a Dehradun school prompted the Uttarakhand court order. According to reports, a girl was assaulted by four students after watching porn clips. However, the order cites no scientific evidence to link pornography with sexual assault. Many people are not just sceptical about the order, but have also questioned whether watching porn in your private space can be effectively blocked!

No matter how hard India tries to ban porn, Indians keep lapping it up like there's no tomorrow.
In 2018, India continued to rank third among the countries with the most number of viewers on leading pornographic website, Pornhub. This is despite the inclusion of this website under the ban by the Indian government in October. Pornhub is accessible in India only through a mirror website.
In 2016, Canada had toppled India to earn the third rank after the US and the UK. But the next year India came back with a bang and has held fort since.
Reacting to the Department of Telecom's move to block access to 827 porn sites on an order by the Uttarakhand High Court, Corey Price, VP of Pornhub, the Canada-based adult entertainment networks, told Indian Express:
"Banning of porn sites with strict terms of service in a disservice to the people of India and will only lead people to go to risky porn sites that may contain illegal content."
Price said it's "still too early" to determine the full extent of the impact, but "traffic has declined". India is the third largest source of traffic for Pornhub, which Alexa ranks as the 29th most popular website in the world and arguably the single largest adult entertainment website.
What is India watching?
Terms such as "Indian" and "Hindi" made frequent appearances in the top search categories, signaling that a wave of internet users from India's hinterlands is coming online—and looking for homegrown porn.
Telecom providers like Jio, Airtel and Vodafone have banned many websites from their network including many genuine and legal ones. The ban applies to even those websites that don't seemingly have child pornographic content on their platform.
IT Act of India:
Publishing child porn or predating children online is an offense in India-
Imprisonment of up to five years, or/and with fine up to Rs 10 Lakh on first conviction
Imprisonment up to seven years, or/and with fine up to Rs 10 Lakh on second conviction
Watching or promoting child pornography is a serious (and heinous) offense in India
While largely people agree with the ban on child porn sites, many also question why the government should not be focussing on enacting stringent as well as effective laws for molesters and rapists, instead of curtailing the 'right to privacy' of the citizens of India as a whole.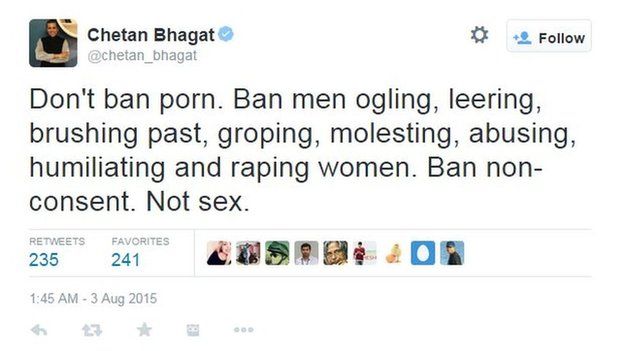 ALSO READ –
Search "Idiot Prime Minister" and Google says it's Modi. Here's why! 🙄