Exit Polls were announced by several media channels on Sunday, May 19. Most TV channels came up with their utmost bizarre way to grab maximum TRPs through their theatrics.
Republic TV run by Studio Journalist Arnab Goswami faced terrible ridicule on social media as he displayed a panel of 15 guests in a single frame. While Goswami is usually mocked by Congress supporters, the video which went viral also had several BJP and right-wing supporters calling out for a serious medical treatment for Arnab.
The video shared by one Twitter user by the name of Chowkidar Dhaval Patel, arguably a Modi fan who has prefixed 'Chowkidar' in his name, captioned the tweet as:
"Koi to rok lo Arnab ko"
(Someone please stop Arnab) 
The reactions on this video went viral with 3.2k retweets and nearly 7k likes.
In the video Arnab goes on to say:
"If Narendra Modi gets 300+ seats, then you call the elections rigged…Because people have dumped Rahul baba and Priyanka Vadra in dustbin, elections were rigged."
"…..Because Kejriwal did not get 100 votes in Delhi, elections were rigged…because Smriti Irani has given such a tough fight to Rahul that he may lose…..Sonia Gandhi is in tension is Rae Bareli…"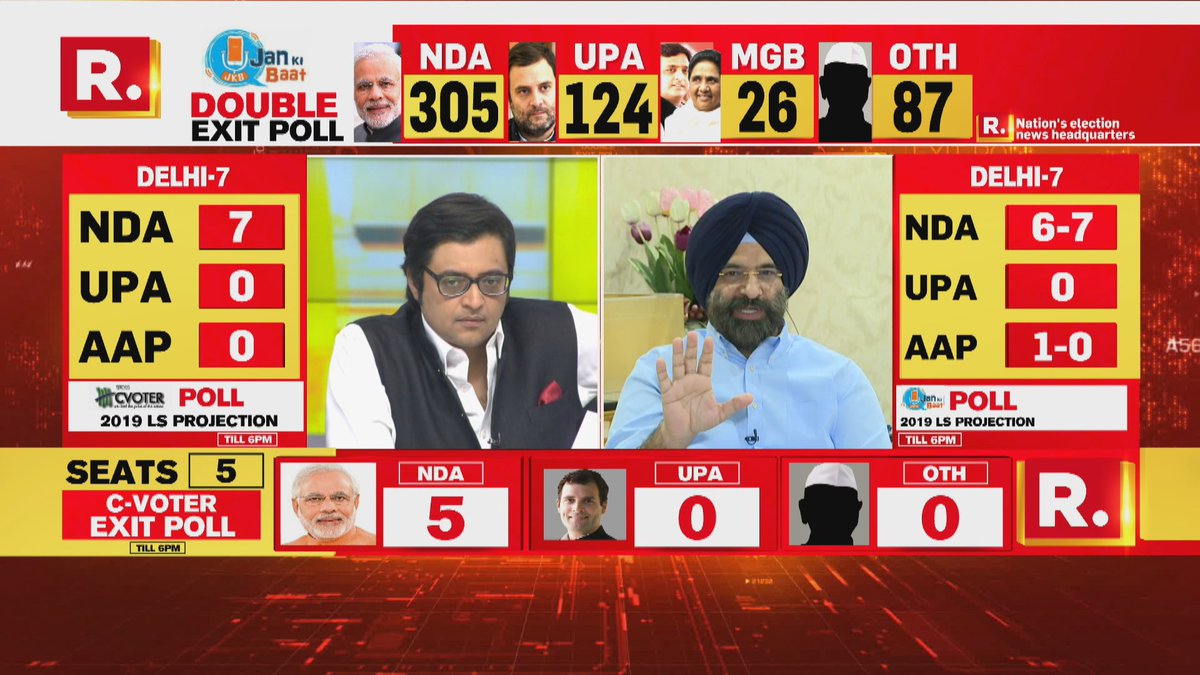 He then gets even more excited, gets up from his seat and starts walking towards the camera repeating:
"I will keep saying….In West Bengal even after so much violence, 80% people voted for BJP……that's why you call elections rigged…..I will keep saying……"
In the end, he walks back towards his panelists who disagreed with his analysis……….and starts screaming,
"Khade ho kar Maafi Maangye…..khade ho kar Maafi Maangye"
(Stand up and Apologise…..Stand up and Apologise)
कोई तो रोक लो अर्णब को 🤣🤣🤣🤣🤣 pic.twitter.com/kY2owok1B1

— Chowkidar Dhaval Patel (@dhaval241086) May 21, 2019
Can someone call
Jeevan Aastha helpline
Tel: 1800 233 3330

I have heard they are very good at dealing with Mental Issues. pic.twitter.com/pX5ND7zRvs

— My Fellow Indians (@MyFellowIndians) May 21, 2019
Mereko toh laga yeh 1-2 ko laafa maar dega😂😂😂

— Arpit Vira આર્પીટ વીરા🇮🇳 (@ArpitRohitVira) May 21, 2019
Shaant karne wala injection do isko koi

— shekhar (@shekharwa) May 21, 2019
Goli nhi maara arnab ne, yahi kaafi tha 😂😂

— Kr Gaurav (@Kgtheseeker) May 21, 2019
Mujhe laga Screen Se Bahar aane wala hai.. isliye video band kar diya hai..😜😜

— dé·jà vu (@insomniac_7) May 21, 2019
Arnab is orgasming right now

— Anurag Mistry (@SemiSecularDesi) May 21, 2019
😆isko kedarnath jaane ki zarurat hai

— Chowkidar Abhijit B (@BagalkotAbhijit) May 22, 2019
Arnab Goswami reacting to #ExitPoll2019 😮

— Pranav Hundekari (@iwhosee) May 20, 2019
Never ignore Mental Health Issues or this could happen to you. pic.twitter.com/8AiOjvxsgi

— My Fellow Indians (@MyFellowIndians) May 21, 2019
The cameraman is running away from him. He might bite! 😂😂

— Abhik Mukherjee (@abhiksitar) May 22, 2019
Cameraman 😂😂😂😂😂😂😂😂 pic.twitter.com/HjPcltat3a

— MK (@Maithilimayya) May 22, 2019
Bhakto arnab se kuch sikho….

Banda bhakti ke charam seema par pahuch chuka hai…

Yeh aatma paramatma ko weelin ho chuki hai…

🙂

— sahil (@arresahil) May 21, 2019

Freedom of Speech empowers every single individual in India to express their views openly. As a citizen, choice is yours! Watch diligently what spreads 'unity' not hate.
Follow Your Digital Akhbaar, Khabarbar on Facebook and Twitter for Real-Time Verified News
ALSO READ –
Sannata at Republic TV & Times Now as BJP loses bastion to Congress