Anupam Kher essays the role of former Prime Minister Dr. Manmohan Singh's in 'Accidental Prime Minister' which releases on 11th January, 2019. The movie, based on the book by the same name by Sanjay Baru, is a fictionalized version of the tenure of Dr. Singh as the Prime Minister of India and his relationship with the Gandhi family-led Congress party.
While the former Prime Minister maintains his usual grace by refusing to be drawn into the controversy over the film, many have questioned the propaganda and timing just before the upcoming 2019 Lok Sabha elections.

WHO IS VIJAY GUTTE – Director of Accidental Prime Minister?
Amidst all the controversies that have sparked for and against the backdrop of the movie, it is important to learn more about Vijay Gutte, the director of the movie. Vijay is the son of Ratnakar Gutte, leader of BJP ally Rashtriya Samaj Paksha (RSP) and main accused in the alleged Rs. 328-crore sugar factory scam in Maharashtra. The opposition in Maharashtra has alleged that funds from this scam have been diverted to produce the propaganda movie.
Congress spokesperson Sachin Sawant then said this clearly shows the link between the filmmakers and the BJP, Rashtriya Swayamsevak Sangh (RSS).
In fact, Leader of Opposition in Maharashtra Legislative Council Dhananjay Munde had even stated that Gutte had allegedly secured loans worth over Rs. 5400 crore on the basis of fake documents made in the name of farmers.
Raising the issue under Rule 289, Munde accused Ratnakar Gutte, promoter of the Gangakhed Sugar and Energy Limited in the state's Parbhani district, of transferring bank loans obtained by various groups firms into different accounts. He further claimed that Gutte had formed 22 shell companies to route the money.
An FIR too had been registered against Ratnakar Gutte on 5th July this year under various sections of the IPC but no arrest had been made so far. Gutte's name has also surfaced in some coal deals made by the Maharashtra State Electricity Board (MSEB) in which irregularities were found.
It was alleged that Gangakhed Sugar and Energy Private Limited, a sugar mill owned by Ratnakar Gutte and others, used names of 2,298 farmers from the village in Parbhani district, some of whom were dead, to apply for loans worth Rs. 328 crore from six banks including five nationalised and one private one.
The police started to probe the allegations after a Bombay high court order
The matter came to light after some farmers approached the UCO Bank in Gangakhed, Parbhani district for crop loan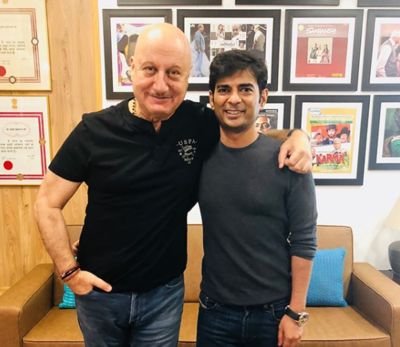 The Directorate General of Goods and Services Tax Intelligence had also arrested film director Vijay Ratnakar Gutte for alleged fraud amounting to Rs. 34 crore in August this year. Further the release of this movie was even halted by the Bombay HC citing payment frauds by the producers of this film.
READ BELOW –
The Accidental Prime Minister stopped for release by Bombay HC citing fraud by Producers
There are other several reasons that makes this movie so politically motivated :
Anupam Kher, who is plays the role of Singh in the film, said that the movie is going to be a "game changer" in political biopics as it does not shy away from taking real names. Kher is an open supporter of the ruling party and also the husband of BJP MP Kirron Kher
Akshaye Khanna, son of late BJP MP Vinod Khanna, dons the role of Sanjaya Baru
Co-producer of Ashok Pandit is another hardcore right wing supporter who disguised himself as the voice for Kashmiri Pandits prior to 2014, but never questioned the BJP government after it came to power
The official handle of BJP even tweeted the link to the film's promo lending it's complete support and openly justifying the agenda behind the movie
Riveting tale of how a family held the country to ransom for 10 long years. Was Dr Singh just a regent who was holding on to the PM's chair till the time heir was ready? Watch the official trailer of #TheAccidentalPrimeMinister, based on an insider's account, releasing on 11 Jan! pic.twitter.com/ToliKa8xaH

— BJP (@BJP4India) December 27, 2018
ALSO READ –