The election results were almost set by 4pm today, except for Madhya Pradesh numbers which are still undecided.
The Congress supporters were cheering loudest over social media while the mainstream media channels were running LIVE results across the five states. A little after 4pm, KC Singh, Former Diplomat and Strategic Affairs Expert, tweeted that he had tuned into Republic TV for an update and he was shocked to hear the debate being conducted by their Managing Director, Arnab Goswami.
Singh said that he could not believe that Arnab was passively listening to a psephologist who said,
"Middle Class had abandoned his Gods"
Just tuned to @republic and found, believe it or not, Arnab passively listening to a psephologist that Middle Class has abandoned his Gods.

— K. C. Singh (@ambkcsingh) December 11, 2018
Singh received several responses where the online users concurred with the absolute bias Goswami was running by mocking the opposition party and their leaders constantly.
Arnob is just a riff raff rabble rouser. By no unit of measurement can he be classified as a journalist. He is at most an abusive entertainer on lines of Adyanath. Similar audience only diff his understands English

— K J Singh (@kjsingh2) December 11, 2018
Also.. when leads for congress was 46 against BJP's 27.. he was saying congress has slight lead and BJP is giving tough fight !!

— moizuddin ahmed (@moizuddinahmed) December 11, 2018
Keep us informed about his reactions. You have the courage to watch it, I don't. But such info, amuses me

— Asma Rizwan ☺😇 (@asmariz) December 11, 2018
While people who follow Arnab Goswami regularly may not find this surprising at all, since Goswami has always been seen as a BJP and right wing supporter, often promoting the news that favours the 'Hindutva' narrative.
Another twitter user, Zoya Rasul, wrote that she heard Arnab Goswami saying,
"If I were Rahul Gandhi, I'd have waited another 30 minutes". And then adds, "I know it's a terrible thing to be Rahul Gandhi."
Arnab: "If I were Rahul Gandhi, I'd have waited another 30minutes". And then adds, "I know it's a terrible thing to be Rahul Gandhi."
How obnoxious can this man be?

— Zoya Rasul (@zoyarasul) December 11, 2018
Ravi Nair, who has been doing some wonderful investigative stories, took a dig at Goswami's "waiting" jibe, and said,
"Being Arnab Goswami, he has waited for nearly 7 years. Still BJP didn't give him a Rajya Sabha seat :)"
Being Arnab Goswami, he has waited for nearly 7 yers. Still BJP didn't give him a Rajya Sabha seat 🙂 https://t.co/gVe3KCpFVM

— Ravi Nair (@t_d_h_nair) December 11, 2018
Twitter user, Rohit Chaudhary, put out the info graphics used by Arnab on his Republic TV, showing the maps for BJP as saffron and the colour green projecting the Congress. Chaudhary pointed out how Arnab was running a communal agenda through his channel on election results day.
#Results2018: Arnab Goswami has chosen Saffron to show BJP and Green to show Congress on the vote maps. Even the maps are Hindu-Muslim on Republic TV. Sad. pic.twitter.com/KMSIPsaO0w

— Rohit Choudhary (@irohitchoudhary) December 11, 2018

Another user pointed how Goswami was trying his best to spin the loss for BJP. He said, Arnab was pushing his version why the independent candidates should align with the Congress in Madhya Pradesh.
Arnab Goswami is the spin behind Dr. Death. Not a media man but a perception peddler and wind up merchant. He's now coming up with reasons why independents in MP shouldn't align with Congress. He's a sore loser as his boss is giving him a R.un for his money.

— लटाँया फर्न्स-आडवाणी (@LatoyaFerns) December 11, 2018
Arnab was also mocked for questioning the BJP spokesperson, as if he himself belonged to the Bharatiya Janata Party.
#ArnabGoswami is interrogating BJP spokespeople about why BJP is losing like he's personally been defeated 😂 pic.twitter.com/UTVLYGVaqD

— Karan Nagwekar (@KaunKarant) December 11, 2018
Last evening, Arnab even resorted to name calling for Congress President and used the term Pidi for his supporters. A video of the same was posted by an online user.
"Overgrown adolescent reaching 50, @RahulGandhi – have u seen his face recently, he seems so scared"

Pidis & @divyaspandana should stop running his SM accounts"

If anyone is a tail wagging dog, it can't be bigger than #ArnabGoswami @INCIndia shud file defamation immediately pic.twitter.com/QqqxPlVDDy

— Arnaz Hathiram (@ArnazHathiram) December 10, 2018
Arnab Goswami launched the Republic TV channel in partnership with BJP MP Rajeev Chandrasekhar in May last year. While he had always been appreciated in his earlier tenure with the Times Now channel, for bashing politicians from all sides equally without any bias, Goswami is often referred to as a paid media stooge for peddling false propaganda and one sided news through his Republic TV channel.
ALSO READ –
Republic TV Journo arrested for sexual assault & kidnapping, released after political pressure
If Republic TV was trying their best to mock the winning party, Times Now was not far behind. Navika Kumar who runs the prime time show at this Times Group channel, is another mainstream media anchor who is seen as driving pro BJP reports daily.
Rana Ayyub, Journalist, tweeted how Yogendra Yadav spoke on the channel about a change in the attitude of the media post today's result and Navika actually agreed with him.
On Times Now @_YogendraYadav says there will be a change in the attitude of the media post this result and Navika Kumar agrees with him 🙂

— Rana Ayyub (@RanaAyyub) December 11, 2018
Another user derived sadistic pleasure by looking at Navika's face through the day. One can only understand the angst of the TV viewers who have been subjected to one sided debates every night.
Uff! Not sorry to say, but @navikakumar's face is giving me sadistic pleasure. #Results2018

— Swati Singh (@swatisingh1995) December 11, 2018
Vinod K Jose, executive editor at The Caravan India said that there was a riot at Times Now and how the anchor was pacifying the BJP Pundits!
Riot at Times Now? Anchor Navika Kumar passifying BJP pundits who run amok of disbelief. "Parties win and lose, we should try not to be upset!" S'thing similar… Oops.. pic.twitter.com/c13Qbl2fmk

— Vinod K. Jose (@vinodjose) December 11, 2018
Earlier last week, one tweet had gone viral when a user posted a video, which said Navika actually questioned "Aur Logon Ki Aastha"……referring to the Ram Mandir issue.
"Aur Logon ki Aastha?" – @navikakumar looks very uncomfortable with K. T. Rama Rao's answers on #BabriMasjid #RamMandir. pic.twitter.com/OR40OpHd4d

— Zoo Bear (@zoo_bear) December 3, 2018
Another tweet was posted on 7th December mocking the bias of Times Now anchor, Navika Kumar.
Navika Kumar excited for #ExitPolls , says will add chairs and sofas from Times Now studio but won't let BJPs seats go down.

— Roshan Rai (@RoshanKrRai) December 7, 2018
Bada question yeh hai ki kya abb Arnab, Navika, Rahul Shivshankar, Rohit Sardana, Sudhir Chaudhari, Amish Devgan, Sweta Singh, Anjana Om Modi jaise patrakaar apna rang badlenge??

Satta hamesha kisi ke pass nahi rehti.. They have to pay for their crimes soon!

— Kapil (@kapsology) December 11, 2018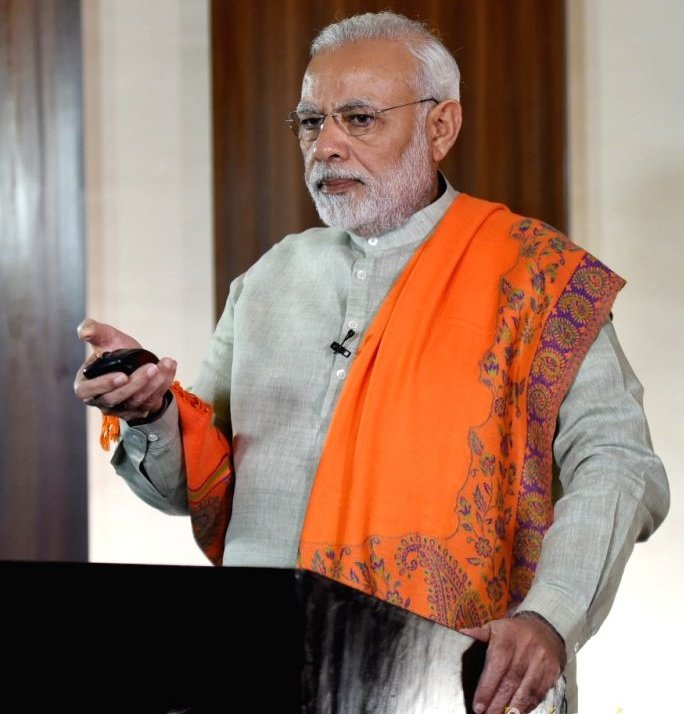 ALSO READ –
EXPOSED: Amit Shah, Times Now & Republic TV LIED about Congress's Manifesto in Telangana; Read Point By Point Rebuttal