Arvind Kejriwal and Aam Aadmi Party (AAP) have always been considered as BJP's B Team when it comes to the politics of the country, especially in the capital, where AAP is currently ruling.
Speaking at the launch of the Aam Aadmi Party's (AAP) manifesto for the ongoing Lok Sabha polls on Thursday, Delhi Chief Minister Kejriwal said the Congress was not getting a single Hindu vote while Muslims were a little confused.
WATCH VIDEO :
Congress slammed AAP supremo's remarks which was nothing but sheer polarisation of votes. The grand old party said that he was doing exactly what the BJP did by mixing politics with religion.
Congress spokesperson Ragini Nayak said,
"I feel Kejriwalji himself is confused."
She said the top leadership of the Congress had extended a hand of friendship towards Kejriwal for an alliance, but he brushed it aside. Nayak questioned whether Kejriwal had joined electoral politics for this alternative politics:
"Then he says the Congress is responsible if (Prime Minister Narendra) Modiji wins. In Delhi, now he is mixing politics and religion."
The Congress spokesperson also alleged that Kejriwal was only trying to weaken opposition in different states – whether it is Kerala, Haryana, Goa, West Bengal or UP:
"I remember the big dreams he had shown — morality in politics, transparency in politics, inclusive politics — and today, he is doing what the BJP does, that if you are a Hindu vote for them, if you are a Muslim vote for them. I feel this is not good for the strength of democracy."
Ending months of speculation over a possible tie-up with AAP, the Congress Monday announced the names of candidates for all the seven Lok Sabha seats in Delhi, fielding three-time chief minister Sheila Dixit from North-East Delhi, former Union minister Ajay Maken from New Delhi and Olympic bronze medalist Vijender Singh from South Delhi.
The party also fielded J P Agarwal from Chandni Chowk, Arvinder Singh Lovely from East Delhi, Rajesh Lilothia from North-West Delhi and Mahabal Mishra from West Delhi.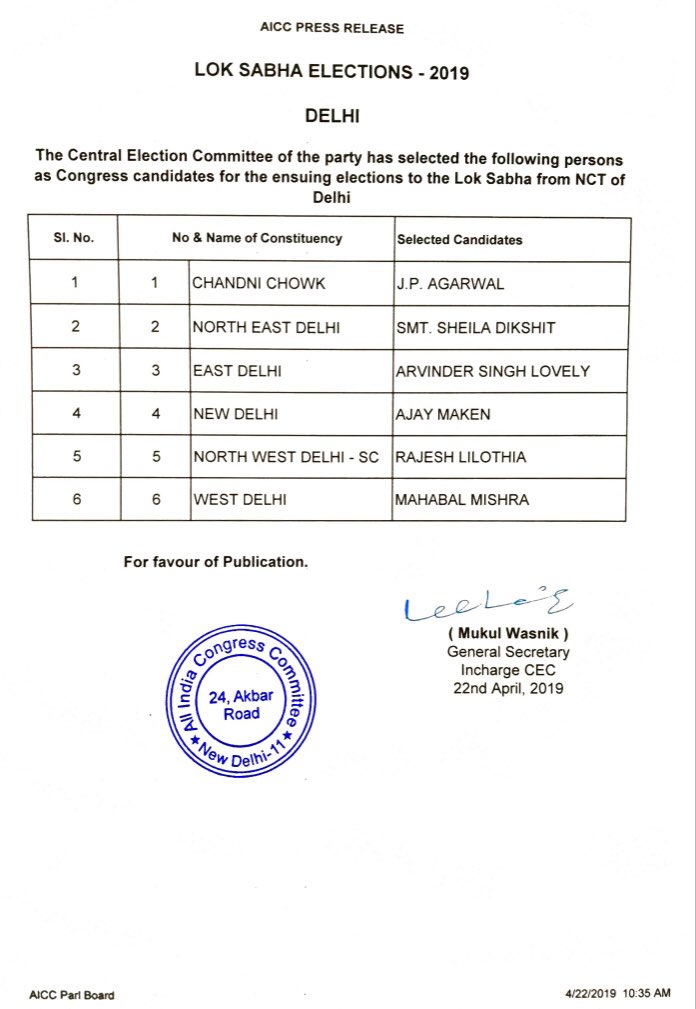 The 81-year-old Dikshit, who took over from Maken as the Delhi Pradesh Congress Committee chief earlier this year, was last a Member of Parliament from 1984-89 from Kannauj. She was the chief minister of Delhi for three terms between 1998 and 2013. She will be giving a tough fight to BJPs Manoj Tiwari.
ALSO READ –