Christian Michel, a British national is one of the three alleged middlemen in the Rs. 3,600 crore AgustaWestland chopper case, which is being probed for allegations of bribery involving top decision-makers of the UPA-II government.
However, the Congress party was also accused of making their own youth wing lawyer, Aljo K Joseph, appear in the CBI court for Christian Michel James. The party quickly swung into damage-control mode with the Indian Youth Congress (IYC) announcing that it has expelled the lawyer, "with immediate effect".
Joseph, in his defence, told ANI that his ties with the party and his profession were "separate".
Sambit Patra of the BJP, conducted a full-fledged press conference, trying to drill the fact how Congress was "rattled after Michel's extradition".
Sambit Patra, BJP: The Congress is rattled after the extradition of #ChristianMichel. They sent their team to save Michel. Congress's Aljo Joseph appeared for him in Court, they later went through the charade of removing him. The family in Congress is getting sleepless nights pic.twitter.com/216ALcFx7h

— ANI (@ANI) December 6, 2018
The opposition too, hit back at Patra, mentioning that the BJP could not find an iota of evidence against any Congress leader, whom they have been implicating falsely in past 5 years, and thus they are now trying their best to link Agusta case with their party.
Jaiveer Shergill, Congress: Since 2016, BJP everyday cries about Agusta. Since last 4.5 years, BJP, their ED & CBI have not found any evidence against any Congress leader. Now they are trying to link Congress' name with Agusta on the basis of an expelled Congress leader. pic.twitter.com/8lOk4IDFbI

— ANI (@ANI) December 6, 2018
We live in the times of social media, where it is extremely difficult for anyone to escape the trials of media, political parties and public in general. They could be legally right in what they are doing, but ultimately they have to face the perils of perception management. Perhaps, Joseph, even though, represented Michel in his personal capacity, had to face the brunt of being expelled.
However, it may be good to brush our memories with a few prominent names of the BJP who have always defended cases against national interests or supported alleged scams. It becomes a bit acerbic for the ruling government to overlook several such cases fought by their leaders, some even ministers, in the capacity of a lawyer.
RAM JETHMALANI
Jethmalani defended Satwant Singh and Kehar Singh who had been sentenced to death for the assassination of former prime minister Indira Gandhi which happened in 1984.
He also represented Rajiv Gandhi assassination convict V Sriharan (also known as Murugan). In 2015, he made a controversial statement that the suicide bomb attack on the former prime minister that also killed 18 other lives was 'not a crime against India.'
Jethmalani has represented several leaders and politicians from his own and other parties in cases of corruption and scams:
Amit Shah – Sohrabuddin encounter case
The senior lawyer represented the then Gujarat home minister and current BJP chief Amit Shah in the alleged Sohrabuddin and Tulsiram Prajapati fake encounters that took place in the year 2006.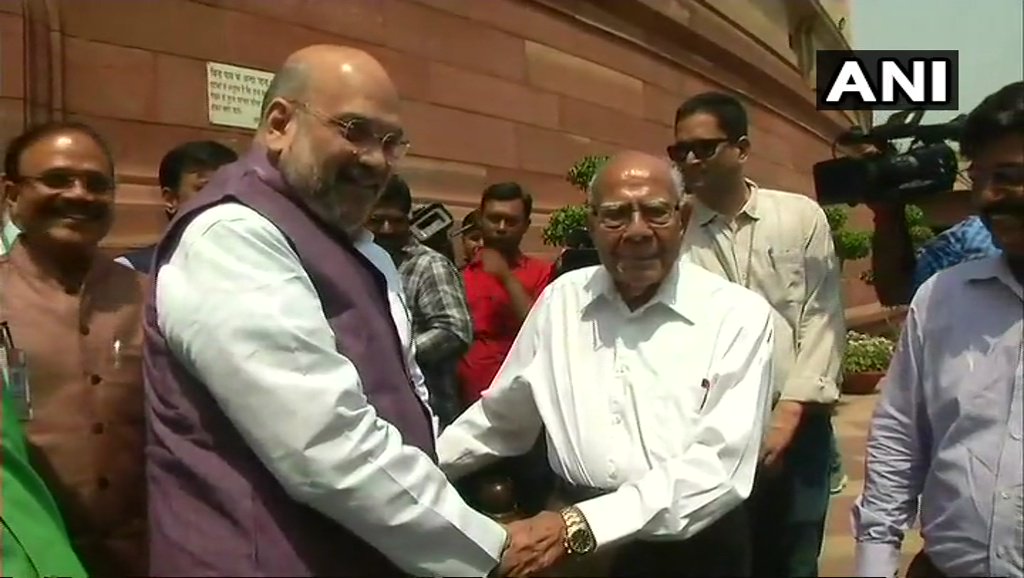 LK Advani in Hawala scam
He represented senior BJP leader LK Advani in the Hawala scam of the early nineties in which illegal payments were sent by politicians to Hawala brokers. In 2015, Jethmalani said in a public statement that it was only because of him that Advani won the case.
Tamil Nadu Chief Minister Late J Jayalalithaa
He appeared for former Tamil Nadu chief minister J Jayalalithaa's disproportionate assets case worth Rs 66.65 crore in the year 2014
OTHERS
Smuggler Haji Mastan
He appeared for Mumbai-based underworld don Haji Mastan in several cases of smuggling.
Afzal Guru -Parliament attack
Jethmalani had argued for 2001 Parliament attack convict Mohd Afzal Guru demanding the commutation of his death sentence. He even accused the government of not allowing him to get a lawyer of his choice and said that Guru didn't get a fair trial
Asaram Bapu
He represented self-styled godman Asaram Bapu in a rape case involving a minor girl in Jodhpur in the year 2013.
Arun Jaitley
Warren Anderson who was the chairman of the US-based Union Carbide Corporation when a poisonous gas leak at the company's plant in Bhopal killed thousands of Indians. Organisations working for welfare of survivors of the 1984 Bhopal gas tragedy had alleged that former Union Carbide Chairman died unpunished due to protection by the US government and deliberate negligence of the then Indian government in bringing him to justice.
It was the current finance minister, who served as a Law Minister under the Vajpayee government, who had endorsed the legal opinion that "our extradition case appears to be weak."
As reported by The Hindu, according to a 2001 note from the office of the Ministry of Law, Justice, and Company Affairs, Mr. Jaitley endorsed the opinion of the former Attorney-General, Soli Sorabjee, that "the evidence so far collected does not appear to be sufficient at this time" to meet the standards applicable in the U.S.
Union Carbide Corporation is a wholly owned subsidiary (since 2001) of Dow Chemical Company. Incidentally, Mr. Jaitley had also advised Dow Chemical in his individual capacity as senior advocate in 2006, when he was no longer in the government. He had then opined that Dow could not be held liable for the Bhopal gas leak tragedy under civil or criminal proceedings.
In another recent case, Jaitley has also been accused of backing Mehul Choksi, who is involved in bank fraud cases. An alleged financial link had been established between Arun Jaitley's daughter Sonali along with his son-in-law Jayesh Bakshi and the fugitive Mehul Choksi. Both his daughter and son-in-law are lawyers as well. The Congress alleged that the lawyer duo charged Rs. 24 Lakhs from Choksi as retainership.
Arun Jaitlie's daughter was on the payroll of thief Mehul Choksi. Meanwhile her FM daddy sat on his file & allowed him to flee.

She received money from ICICI a/c no: 12170500316

It's sad that media has blacked out this story. The people of India won't. #ArunJaitlieMustResign

— Rahul Gandhi (@RahulGandhi) October 22, 2018
READ BELOW – 
Congress Demands Jaitley's Resignation For Alleged Links With Mehul Choksi
Sushma Swaraj 
Lalit Modi is a wanted man in India and has made London his home since 2010 to avoid a probe for alleged foreign exchange regulation violations in the IPL T20 cricket tournament held in South Africa in 2009. The previous Manmohan Singh-led UPA government had revoked Lalit Modi's passport and had pressed for his extradition.
In June 2015, Union Minister of External Affairs Sushma Swaraj had found herself at the centre of a major controversy, over helping scam-tainted former Indian Premier League (IPL) chief Lalit Modi, to obtain British travel documents. While then no resignation was demanded by her party, she infact found strong support from the government which rejected Opposition demands for her resignation.
In her defence then, Minister Sushma Swaraj said that this was done to lend a helping hand to treat Lalit Modi's wife who was suffering from cancer and needed treatment urgently.
External Affairs Minister Sushma Swaraj's husband Swaraj Kaushal had confirmed that he had been Lalit Modi's lawyer for the past 22 years. Kaushal also said he was Modi's guest for one night at Mumbai's Four Seasons Hotel, where the former IPL boss was camped in April 2010. Modi made arrangements for Kaushal's accommodation on 21st and 22nd April, 2010 at the hotel.
SUBRAMANIAN SWAMY
In April 2015, Senior BJP leader Subramanian Swamy had met with Asaram Bapu in Jodhpur Central Jail and assured the self-styled godman that he would fight his case in the court. He had then quoted:
"Bail is a fundamental right of Asaram and he would soon file a bail application in the lower court," Swamy said, adding that he would fight his case in the court.
Comparing Asaram's case with those of politicians like Lalu Prasad and Jayalalithaa, Swamy had then questioned,
"When they could be out of jail despite being convicted, why could Asaram not be out of jail".
The crux of the above article is not questioning the individual capacity of any lawyer to take up respective cases as a professional. However, the argument of bias arises, when multiple press conferences are done by the ruling party to demand instant resignations from the opposition, however, they lend complete support to their own party members when they openly indulge in similar acts.
ALSO READ –
Modi's dynasty politics' hypocrisy busted; BJP accounts for 44.4% of heirs elected to LS in 2014 – Report