The row over discontinuing 'Vande Mataram' in Madhya Pradesh escalated when former Chief Minister Shivraj Singh Chouhan said he will himself recite the national song along with 109 BJP MLAs on Mantralaya ground in Bhopal on 7th January.
Former Madhya Pradesh Chief Minister Shivraj Singh Chouhan: All of our 109 MLAs will recite 'Vande Matram' at the Madhya Pradesh Secretariat in Bhopal on 7 January 2019. (file pic) pic.twitter.com/bYmKl4QaHB

— ANI (@ANI) January 2, 2019
Criticising the same, BJP President Amit Shah even compared it akin to treason. However, when his own party MLAs gathered at Sardar Vallabh Bhai Patel Park in Bhopal to chant Vande Mataram on Wednesday, they instead shouted slogans saying:
"Is desh mein rehna hai to Bharat Mata kehna hoga (If you want to live in India you will have to say Mother India)"
As reported by TOI, when the reporters asked them to sing Vande Mataram, none of them could do so. Further there were hardly any people who joined them in the protest, despite the fact that the same was attended by top local BJP leaders including MLAs Rameshwar Sharma, Vishwas Sarang and Krishna Gaur along with Surendra Nath Singh.
Three women party workers began reciting the national song, however, it caused embarrassment to some prominent party MLAs who could not continue with the lyrics. As mentioned emphatically by TOI, 'all of them failed.'
When the reporters confronted Surendra Nath Singh, he said that very few people may know the complete lyrics of the song and that he could also not sing the entire song. He however justified his failure by saying he respected it.
Bhopal: BJP workers hold protest outside the Secretariat against Chief Minister Kamal Nath over Vande Mataram row. pic.twitter.com/eSxx8vBdgF

— ANI (@ANI) January 2, 2019
Rameshwar Sharma said that he was able to sing the first stanza but could not continue until others joined in. He also said that if all join in we will be able to sing it fully, else one may face a problem if asked to recite alone.
WATCH VIDEO :
The BJP Nationalists who can't even sing Vandemataram!! pic.twitter.com/1boTbEL27Q

— Pujan Biswas (@pujanbiswaspyc) January 3, 2019
The above further demonstrates the hypocrisy of Madhya Pradesh BJP who have criticised Kamal Nath-led Congress government for not singing Vande Mataram–the National song–on 1st January.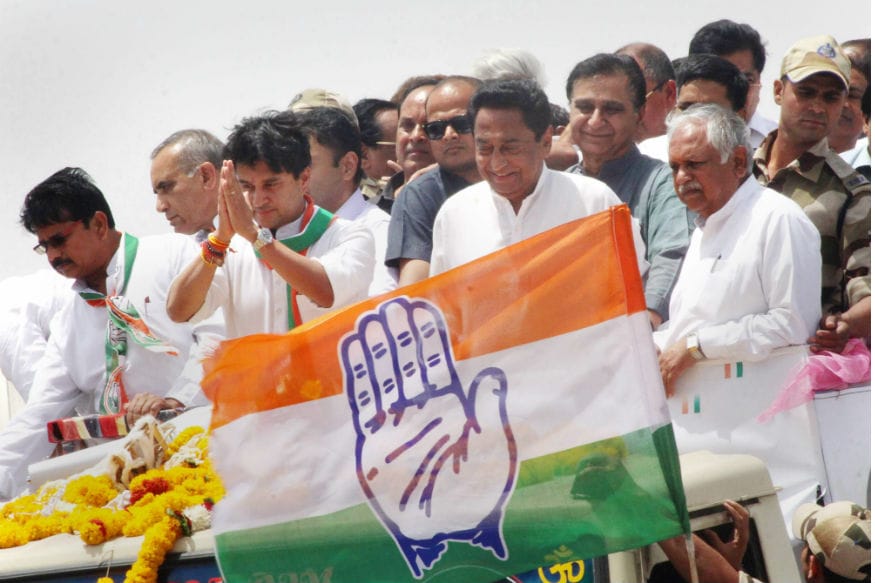 In another embarrassment sometime ago, Bharatiya Janata Party spokesperson Navin Kumar Singh put his party in a spot when he attempted to sing the national song Vande Mataram in the midst of a television debate on 28th October.
Among the many words and phrases Singh mangled was "shubhrajyotsnaa pulkitayaaminiim" – glory of moonlight dreams. In the BJP spokesperson's rendition, the last word sounded like "Pulkistan."
WATCH VIDEO