One of the issues that has been raised by Bhartiya Janata Party (BJP) is the lack of respect and dues given to Indian soldiers by previous governments. The party has also become a flag bearer of being most concerned for the welfare of our Rakshaks at the border.
In October 2016, the Prime Minister addressed war widows and families of soldiers in the Madhya Pradesh capital where he was invited to inaugurate the Shaurya Smarak state war memorial, constructed by the state government. He quoted,
"Often in foreign countries, when sitting at airports or railways stations we see that soldiers are given standing ovation by civilians even when they just pass by. Seeing three to four soldiers walk-by, people stand-up and applaud, clap for them," the Prime Minister said. "Can we make this effort slowly and develop a tradition to show respect to our defence forces? These are small factors but make a huge difference in our lives and soldiers' lives." 
However, in a recent U-Turn from making life easy and respectful for our defence members, especially the disabled ex-servicemen, the Ministry of Defence (MoD) stated in Parliament in March this year that it would not withdraw appeals pending before the Supreme Court.
This completely violates the poll promise made by Bharatiya Janata Party (BJP) of reducing litigation for the said soldiers. Further the party also refused to adhere to the recommendations of an expert committee appointed by former defence minister Manohar Parrikar to study the issue.
Minister of State for Defence, Dr Subhash Bhamre, said in the Rajya Sabha while replying to a question by MP Rajeev Chandrasekhar,
"The Ministry of Defence do not propose to withdraw such pending appeals in the Supreme Court….It is the considered view of the ministry to await the orders of the Court in Civil Appeals filed in 'NANA' cases."
On 2nd October on the eve of Gandhi Jayanti, Major Avi Chander Sud, a retired Army major has called out the farce by the Central Government questioning the current Defence Minister, Nirmala Sitharaman, Prime Minister Narendra Modi, BJP President Amit Shah and the Prime Minister's Office and asked them to urgently look into the matter.
Dear @nsitharaman @PMOIndia @narendramodi @AmitShah,

With all humility I submit that despite your promises, MoD is still unleashing terror on disabled soldiers. Proof:
1. BJP statement before 2014
2. BJP manifesto in 2014
3. Govt Committee recommendation 2015
4. Reality in 2018 pic.twitter.com/OSRK2d8q2X

— Major AVI CHANDER SUD(Retd) (@avisud) October 2, 2018
The retired major clearly points out four crucial flip flops by the BJP.
The first attachment shows the Press Statement issued by then BJP National Vice President Smriti Irani prior to 2014, where she categorically stated the
"Majority of appeals and SLPs filed by MoD before Supreme Court are against their own disabled soldiers on the specious ground that Courts and Tribunals have granted relief against the Defence Ministry's Policy"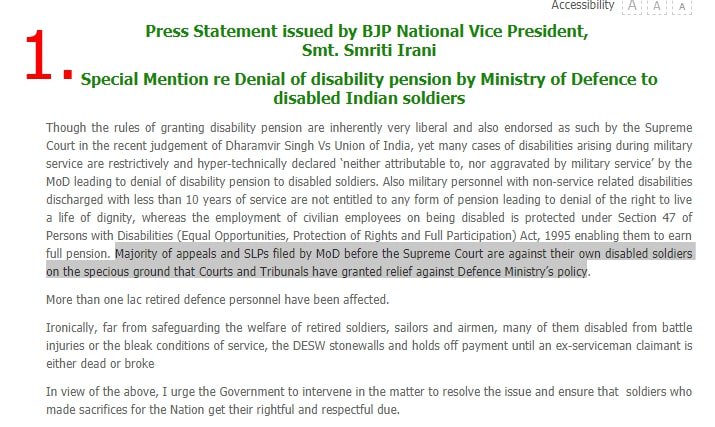 The second attachment refers to the Lok Sabha Poll Manifesto where one of the points clearly mentions "minimise appeals by the Government"

The third document attached by the Major is the note from Government Committee Recommendation dated 2015 which states that "all appeals pending against such disabled soldiers filed in Supreme Court be withdrawn immediately".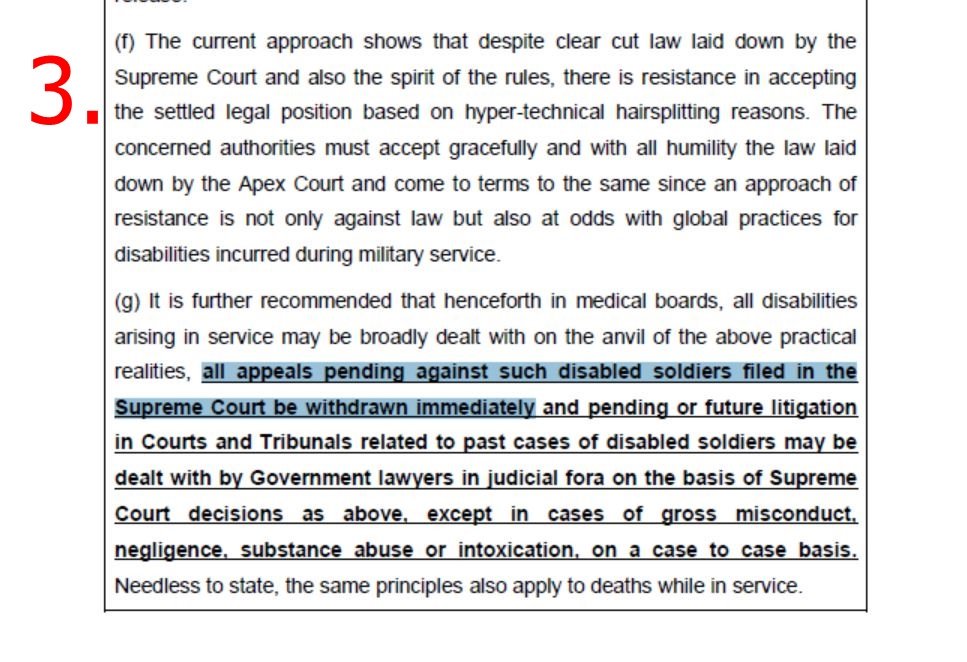 Last but not the least, the fourth attachment is captioned as "Reality of 2018" which is a complete shocker from Sitharaman, that negates any withdrawal of cases against disabled soldiers.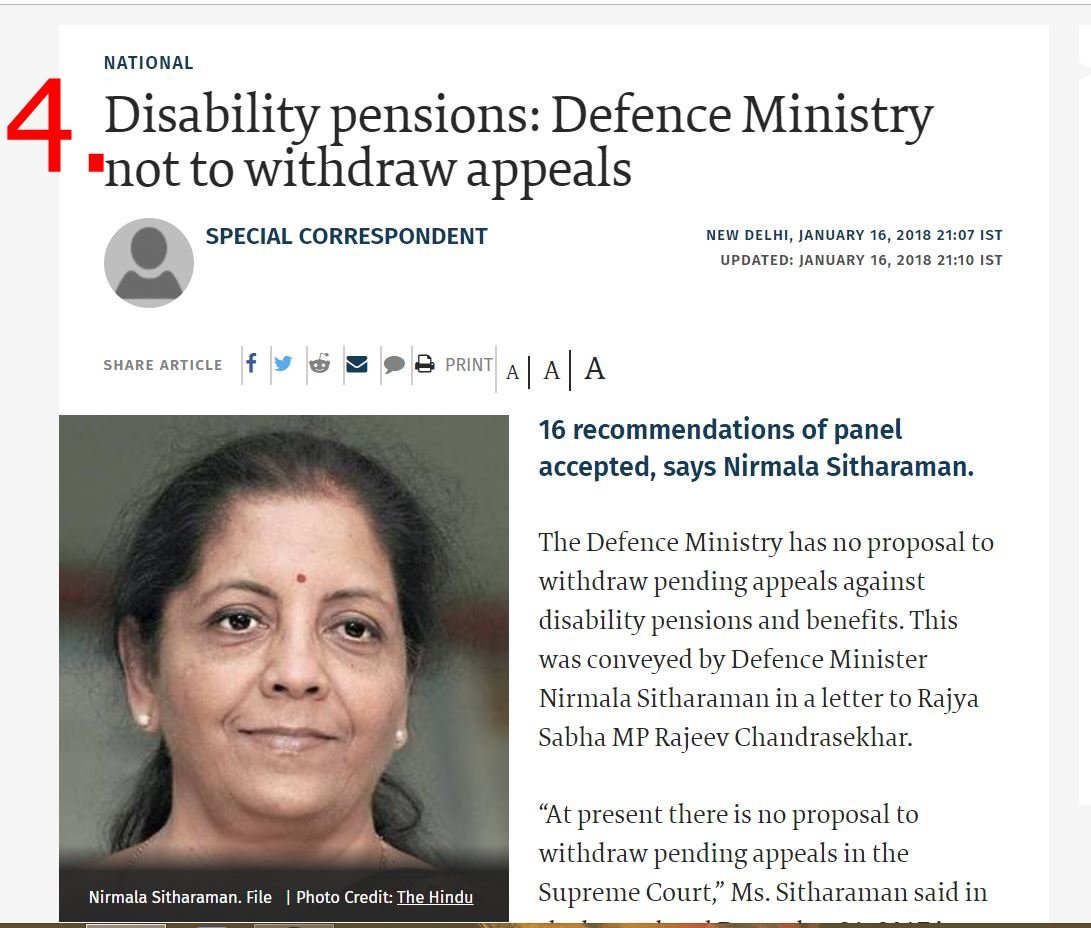 In January 2018, the Defence Ministry announced that it has no proposal to withdraw pending appeals against disability pensions and benefits. This was conveyed by Defence Minister Nirmala Sitharaman in a letter to Rajya Sabha MP Rajeev Chandrasekhar.
"At present there is no proposal to withdraw pending appeals in the Supreme Court," Ms. Sitharaman said in the letter dated 31st December, 2017 in response to Mr. Chandrasekhar's July 2017 letter.
Navdeep Singh, Former Military Reservist and HC Lawyer, tweeted that he was deeply concerned about how all Governments have dealt with such subjects. He also commented that the "blame game and lip service sounded so hollow and the Business was as usual".
As an apolitical person and intimately involved with these issues, I am deeply concerned about how all Governments have dealt with such subjects. The blame game & the lip-service sounds so hollow. It is BUSINESS AS USUAL. The four pictures explain it all.https://t.co/xl1LODGegZ

— Navdeep Singh (@SinghNavdeep) October 2, 2018
What can I say, I feel pained.
Having been involved in the process, I really hope the political executive would tame the official-legal system one day. In any democracy the citizenry & the media would've forced action through our representatives. But…https://t.co/67EKK2Zlt4

— Navdeep Singh (@SinghNavdeep) October 2, 2018
Navdeep Singh also pointed out that Rs. 48 crores was paid as fees to Government lawyers by the Defence Ministry in 2017 alone…..for fighting cases against disabled soldiers, soldiers and military widows.
What a TERRIBLE SHAME for THIS GOVERNMENT. pic.twitter.com/395bhf3BLM

— Prakash Katoch (@KatochPrakash) October 6, 2018
Another Major D P Singh critiqued MoD Minister and Prime Minister Modi sharply saying that it was a sad state because MoD was not being reigned to avoid embarrassment to Sitharaman and Modi
It is a sad state madam @nsitharaman
Sad not coz things are this way but also cos MoD is not being reigned to avoid embarrassment to you and @narendramodi

This is not what National litigation policy referred to by @PMOIndia

May good sense prevail.

Jai hind https://t.co/mMymO7bGNd

— Major D P Singh (@MajDPSingh) October 2, 2018
Gaurav Sawant – Executive Editor, India Today made sharp remarks on the mockery of Rs. 48 crores being spent by the government to battle our 'own disabled soldiers'
What a waste of Rs 48 crore. And which govt battles it's own soldiers? And that too disabled soldiers? This must be audited and which ever bureaucrat ordered this… he/she must be made to pay. Shameful & appalling @ https://t.co/5FqLatbs9r

— GAURAV C SAWANT (@gauravcsawant) October 7, 2018
Earlier in June this year, Congress President, Rahul Gandhi had mocked the Make In India slogan, calling it 'Empty and Useless Acronym' when our soldiers were expected to buy their own clothes and shoes.
MAKE (empty slogans and useless acronyms) IN INDIA….meanwhile, make our soldiers buy their own clothes & shoes. https://t.co/UaWqsIhnQx

— Rahul Gandhi (@RahulGandhi) June 5, 2018
The report indicated that the Indian Army drastically cut down its supplies from government ordained factories. The cut was necessitated after the Centre failed to allocate funds in order to purchase critical ammunition for a short intense war. The slashing of funds affected critical ammunition and spares for a "short intense war". Due to this, soldiers were being compelled to spend their own money to buy uniforms and other essentials from local markets.