Former President of India, who is well respected even with the RSS (primary umbrella body of the ruling BJP), has come out with his official statement over the ongoing electronic voting machines controversy.
Pranab Mukherjee expressed his concern over the alleged tampering of voter's verdict, affirming that the onus of ensuring absolute institutional integrity lies with the Election Commission.
Mukherjee also said there can be no room for speculation that challenge the very basis of Indian democracy. He posted his clarification from his twitter handle a while ago, which read:
"I am concerned at reports of alleged tampering of voters' verdict. The safety and security of EVMs which are in the custody of ECI is the responsibility of the Commission."
"People's mandate is sacrosanct and has to be above any iota of reasonable doubt."
"The onus of ensuring institutional integrity in this case lies with the Election Commission of India. They must do so and put all speculation to rest."
Please read my statement below.#CitizenMukherjee pic.twitter.com/UFXkbv06Ol

— Pranab Mukherjee (@CitiznMukherjee) May 21, 2019
Mr. Mukherjee added as a firm believer in the country's institutions, it is his considered opinion that it is the 'workmen' who decide how the institutional 'tools' perform.
Several video of alleged movement and tampering of EVMs went viral on social media, however, the EC has dismissed all the charges and suggested nothing was wrong.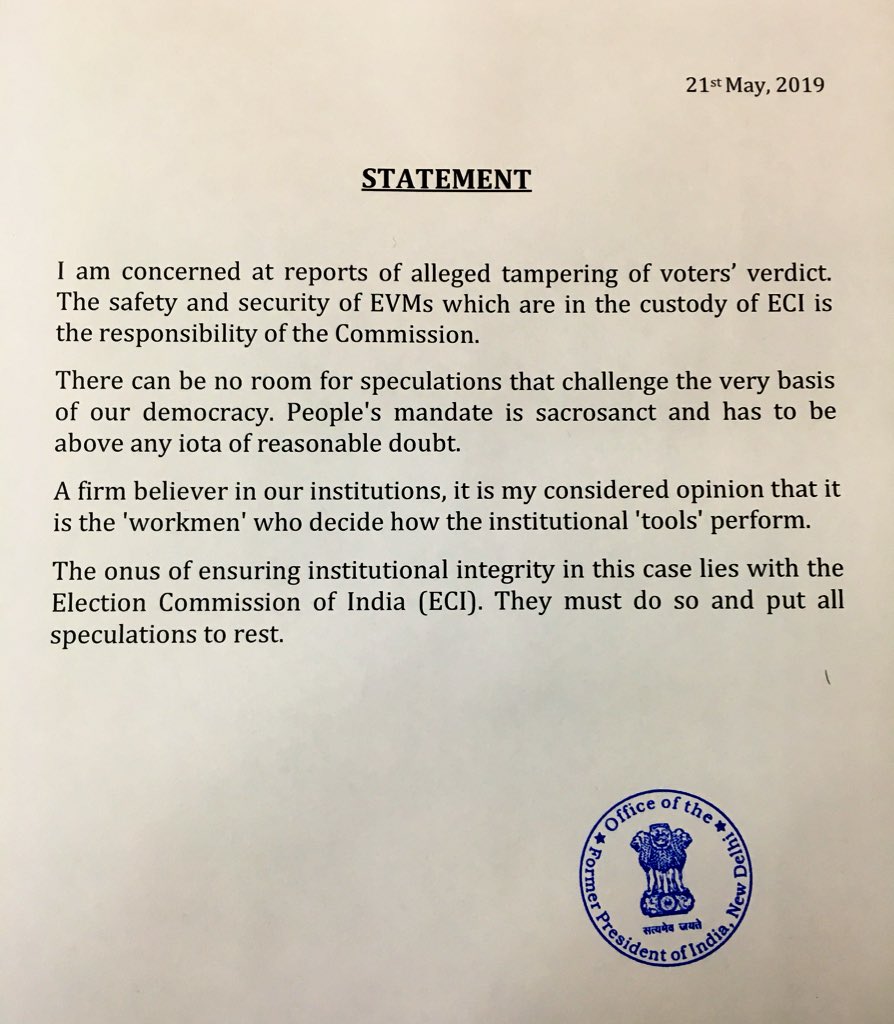 As a responsible citizen and a leader, Pranab da had posted his photograph after getting inked in Delhi on May 12, urging all citizens to be a part of the celebration of the world's largest exercise of democracy.
After casting my vote today for the #2019Elections.
We must all be a part of the celebration of the world's largest exercise of democracy.#CitizenMukherjee pic.twitter.com/PtOjNgUCyz

— Pranab Mukherjee (@CitiznMukherjee) May 12, 2019
Below are few of the many videos and images of EVMs being transported in private vehicles without security, that have surfaced from across India.
#EVMScandal In UP's Domariyaganj | Not only have there been reports of EVM tampering, but even whisking away of the voting devices. The latest is of a case from the Domariyaganj Lok Sabha constituency in UP, where an #EVM machine was recovered from the car of a naib tehsildar pic.twitter.com/QaRYk4xdy9

— GoNews (@GoNews24x7) May 15, 2019
In Haryana's Fatehabad, a truck load of EVMs entered the strong room without any verification of documents.
As per EC guidelines, till counting is over, any to & fro movement of EVMs (to/fm strong rooms) should be in the presence of political party reps
pic.twitter.com/ksgrDQPOQJ

— Ravi Nair (@t_d_h_nair) May 20, 2019

Breaking: While @ECISVEEP has been asleep, A vehicle has been caught red handed near the strong room in Maharajganj Constituency Bihar filled with EVM's along with the BDO, which was caught by alert RJD karyakartas. #RIPECI #ModiElectionCommission pic.twitter.com/1HKfwLCcok

— Punjaban 💫 (@epichoas) May 20, 2019
#Evidence1 #WATCH #EVMHacking #EVMScandal This one is from Haryana@ECISVEEP pic.twitter.com/OGauUlMXCU

— Molitics (@moliticsindia) May 21, 2019
#Evidence3 #WATCH #EVMHacking #EVMScandal The day after last phase of polling, complaints poured in from UP, Bihar and other parts of the country about suspicious movement of EVM's into campus with strongrooms in violation of rules @ECISVEEP @ArvindKejriwal @bishnoikuldeep pic.twitter.com/jyTrXSTfiZ

— Molitics (@moliticsindia) May 21, 2019
WOAH!

WATCH MGB candidate from Gazipur confronting POLICE on EVM safety.

He alleges that a truck full of EVMs was spotted. He is now sitting on dharna outside the counting centre. His demand is that instead of CISF, BSF must protect EVMs.

Watch this space for more. pic.twitter.com/kpYLbyPc73

— SaahilMurli Menghani (@saahilmenghani) May 20, 2019
Latest visuals of a Toyota Innova illegally carrying EVM's was caught in Phagwara, near Jalandhar, Punjab. #EVMHacking pic.twitter.com/oBU3X7mOtW

— Rofl Republic (@i_theindian) May 21, 2019
The Congress said the EC should take immediate and effective steps to address the complaints of movement of EVMs from strongrooms from various parts of the country.
Top opposition leaders, who met here on Tuesday, also decided to move the EC to press for their demand of tallying the paper trail of votes (VVPATs) with the EVM figures.
Follow Your Digital Akhbaar, Khabarbar on Facebook and Twitter for Real-Time Verified News
ALSO READ – 
Yogendra Yadav asked people to go for NOTA and is now wanting "Death for Congress", if it fails to defeat BJP
How Modi Government amended laws so that No Scams can ever be reported