The Congress has always described demonetisation as the "biggest scam" of the country and alleged that it "may have helped criminals to monetise by looting the treasury and the poor". 
Prime Minister Narendra Modi is also called out for "sleeping" and not ordering probe despite "evidence" about "the loot". In official press conferences, the Congress has questioned several times:
"Why was the chowkidar asleep when all this happened? The absence of an investigation suggests that those involved in this loot are being protected. Those who have collaborated with corruption cannot pretend to be clean."
Have you ever wondered why have there been No Scams reported during past five years. The reasons for the same are listed below:
Modi Govt has systematically introduced Laws which Prevent reporting & investigation of bribery and scams
This actually encourages black money
Change in Laws:
Arbitration and Conciliation (Amendment) Bill, 2018 made a number of significant changes which sets back India several decades
Most troubling aspect of the Bill is the proposed constitution of the Arbitration Council of India (ACI) to act as regulator of arbitrators and arbitrations
In a country where the Government is the biggest litigant, it cannot act as a supervisor over the very arbitrators who are hearing cases against the Government
The Bill as proposed introduces a blanket confidentiality requirement in arbitration

This defeats the very purpose of which the case needs to be fought about
The Bill applies retrospectively from October 23, 2015.

Parliament passed Prevention of Corruption (Amendment) Bill 2018 on July 24 to enhance transparency and accountability of the government, however, it did exactly the opposite:
Under the Amendment Bill now, the threshold of intent needs to be proven to be mala fide, or the intent to commit a crime
If one can't prove intent, there is 'no case' even if the accused has disproportionate assets. Unlike earlier, a Corruption Charge needs to be reported within 7 days, else, it becomes irrelevant
Criminal misconduct under earlier law covered a wide array of offences including taking bribe obtaining pecuniary advantage in future without public advantage
With the amendment, criminal misconduct will now include only 2 offences, which are:
Misappropriating of property
Amassing assets disproportionate to known sources of income for "Oneself"
This implies that the amended Law does not account for disproportionate assets that have been illicitly procured for other people.
So effectively off-shore transactions or non-monetary considerations such as a better posting, post-retirement benefits, etc. would 'not be' considered a bribe under the 2018 amendment.
Earlier, a bribe giver was not considered as an accused. Now giving a bribe is included as a crime, provided it was not coerced by the bribe-taker. Why would anyone even report a bribery case since the Giver will also be prosecuted. Thought to ponder upon!
Pre-investigation Approval Must
Now, a police officer will need prior approval of relevant authority (Ministry) to begin investigation which was not the case earlier.
Example: To investigate a Minister, approval needs to come from the Ministry. This is like saying, I have to approve an investigation for 'myself'. Chances are, the approvals, if any, will be delayed allowing time for a possible clean up.

Have we heard a word on Lokpal and Lokayuktas in past five years?
A Lokpal is an anti-corruption authority or body of ombudsman who represents the public interest
The power to give sanctions for Corruption investigations lies with the Lokpal
Non-Implementation of Lokpal and Lokayuktas Act Nullifies Anti-corruption law
Despite this, the government did not implement the Lokpal and Lokayuktas Act which was passed in 2013
Removal of Jewelry Purchases from Prevention of Money Laundering Act (PMLA):
Under the Prevention of Money Laundering Act (PMLA), every reporting entity ("The Jeweller") is required to maintain records including KYC of all transactions, of value exceeding Rs 50,000 in the case of jewellery purchases
PMLA applies to financial transactions like depositing cash, buying a Mutual Fund, Insurance, Vehicle in excess of Rs 50,000
But the Modi government just before Gujarat Elections excluded the Jewellery industry from PMLA requirements
Effectively anybody could purchase Jewellery upto Rs 200,000 without reporting (break up billing <2 lacs)
Largely the Tax Paying Class only invests in Financial Assets. Others invest in Land & Jewellery, thereby, making jewelry one of the most prevalent forms of accumulating Black money
Electoral Bonds:
The upper limit (7.5% of Profits) of Political funding was removed
Thereby, even loss making companies could make a political donation
Effectively, corporate lobbying was legalised via a back-door channel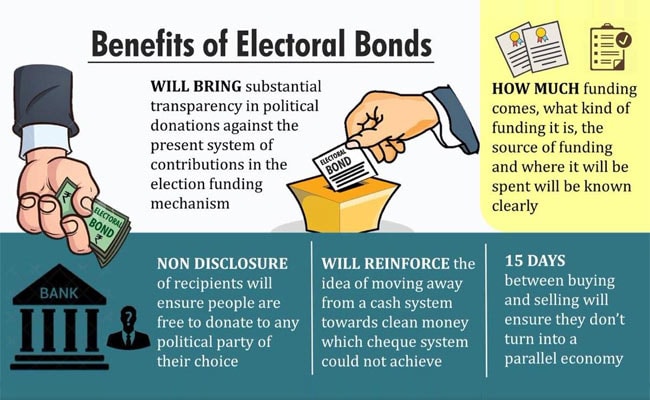 The back to back timing of Income Disclosure Scheme 2016 and Demonetization 2016 was the perfect route to covert ones black money into white at a sub 10% Tax Rate with Protection from Prosecution.
One billion rupees spent on renovating bungalows of Union Ministers in Modi Era