Narendra Modi came face-to-face with the media today for the first time in his tenure as Prime Minister. Political pundits, opposition and of course the common man was eagerly waiting for the man on the hot seat to take direct unscripted questions from the journalists.
Of course, the ECI has again overlooked the violation of Model Code of Conduct where the press conference by Amit Shah and Narendra Modi (PM) was conducted beyond the deadline of 5pm deadline.
As BJP is famous for doing things differently, Modi showed up on the dais for a scheduled press conference by BJP president Amit Shah, who gave a detailed report card of the campaigning as well as performance of the NDA government.
Much to the dismay of all, Modi told reporters that he will not take any questions because the press conference is being addressed by Shah, and in BJP's system, discipline has to be followed. Modi quoted:
"We are disciplined soldiers of the party."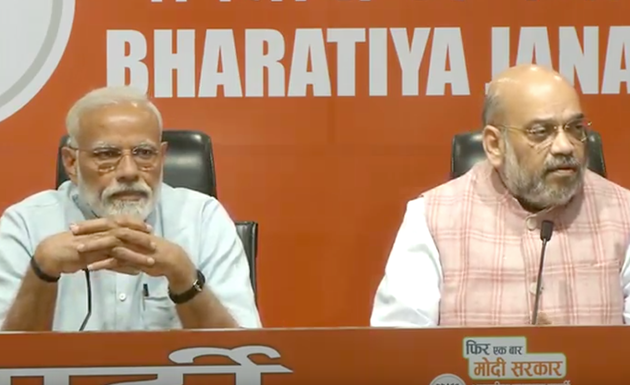 However, the Prime Minister did address the media in his monologue for nearly 12 minutes in which he chose to only speak about himself and the way the party has organised elections. What did not go unnoticed is that Prime Minister Modi also spoke about the Satta (betting) market, which allegedly prevails during the election season. He said:
"On May 17, 2014, exactly five years ago, the Satta market faced huge loses when I came to power. Satta market had betted on 150 seats for the Congress and approximately 218 seats for the BJP. And all went for a toss!"
WATCH VIDEO (AT 30MIN)
Modi is the first prime minister who has openly spoken about the betting market, giving out numbers that prevailed in 2014, almost legitimising this illegal act.
He ended his monologue by thanking the people and exuding confidence about winning the Lok Sabha 2019 elections.
Follow Your Digital Akhbaar, Khabarbar on Facebook and Twitter for Real-Time Verified News
ALSO READ –
How Modi Government amended laws so that No Scams can ever be reported
Oxford Dictionary misreads Rahul Gandhi's sarcastic tweet. Here are few more sarcasms used by Congress President earlier as well