According to a report (CMS) released on Monday this week, spending by political parties and candidates to woo 900 million voters in the just concluded polls, cost them nearly Rs 60,000 crore ($8.7 billion), more than double of 2014 polls.
Rs 27,000 crore was the total expenditure by the ruling Bharatiya Janata Party (BJP) spent in the recent Lok Sabha elections. The report has called the 2019 general elections:
"The most expensive election ever, anywhere."
The report, based on field studies, analysis and estimation, found that BJP spent:
Rs 700 per voter OR
Nearly Rs 100 crore in each parliamentary constituency
According to Scroll:
BJP spent about 20% of the total poll expenditure in 1998 as against about 45% in 2019
Congress, on the other hand, spent about 40% of total expenditure in 2009, as against 15%-20% this year
Around Rs 12,000 crore to Rs 15,000 crore was distributed directly to voters
While Rs 20,000 crore to Rs 25,000 crore was spent on publicity and marketing
The report described the 2019 Lok Sabha polls as "a watershed election".
According to N Bhaskara Rao, chairman of CMS, if this is how the money is going to be spent during election campaigns, the expenditure in the 2024 general elections could well cross Rs 1 trillion. He quoted:
"Mother of all corruption lies in the spiralling election expenditure. If we are not able to address this, we can't check corruption in India. The scale of the expenditure should scare us and compel us to think of taking corrective steps to build a stronger democracy."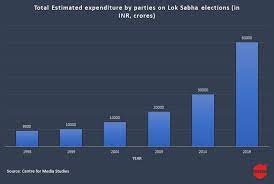 The Congress on Friday asked the BJP to make public the sources of the "humongous amount of Rs 27,000 crore" it had reportedly spent in the Lok Sabha polls, and pitched for a national election fund to provide a level-playing field to all contesting parties. Congress spokesperson Abhishek Manu Singhvi said the government should come out with a white paper on electoral funding and expenditure.
The Congress leader claimed that the total amount was equivalent to:
30 percent of India's education budget
43 percent of health budget
10 percent of defence budget
45 percent of allocation for rural job scheme MGNREGA
The Congress leader also alleged that schemes such as the electoral bonds have contributed to a completely skewed imbalanced approach to money power in elections.
"The electoral bonds have certainly played a negative and an important role in this distortion," he said.
He further added that the Congress had promised to scrap the "opaque" electoral bond scheme that was designed to favour the ruling party.
Follow Your Digital Akhbaar, Khabarbar on Facebook and Twitter for Real-Time Verified News
ALSO READ –
Ghar Ghar Modi: Pro-BJP FB Pages have spent crores on Ads & Free Merchandise in just past one week