National Security Advisor (NSA) Ajit Doval's son Shaurya Doval has been given Z-security cover. As per the cover norms, he will be guarded by 15-16 commandos whenever he travels across the country.
'Potential threats' is the main reason cited for this decision. Besides Doval's son, 10 BJP candidates who are contesting from West Bengal have also been given temporary security cover, though for a limited period. These are namely:
Anupam Hazra from Jadavpur
Arjun Singh from Barrackpore
SS Ahluwalia, the sitting Minister of State and candidate from Durgapur
Nishit Pramanik from Cooch Behar
Bharti Ghosh, a former IPS officer contesting from Ghatal seat
BJP leader Siddharth Shekhar
These candidates have been given a Y+ security cover which consists of about 5-6 armed commandos.
Shantanu Thakur, BJP candidate from North 24 Parganas has been given Y category cover while Dulal Chandra Bar and Khagen Murmu have been given the lowest, X category.
According to a report by PTI, Shaurya Doval was brought under the mobile security cover after a security perception report concluded that he faced "threats from people inimical to his father and others".
On receiving the report, Ministry of Home Affairs (MHA), under Rajnath Singh, ordered the deployment of the Central Industrial Security Force (CISF) commandos around Doval.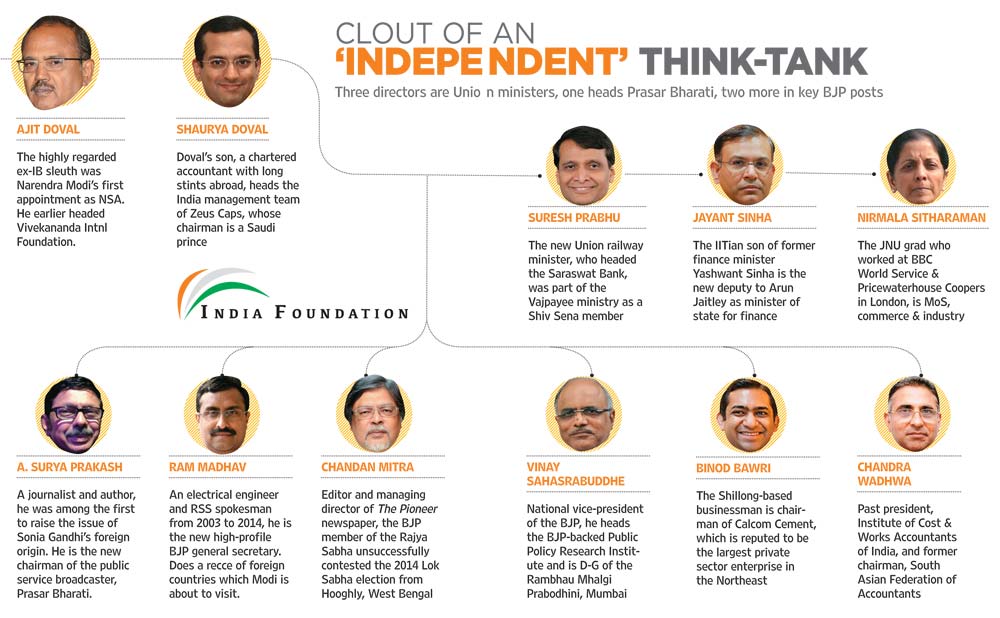 While father Doval has a Z+ security cover which was extended to him four years ago, the 43-year-old son will also be guarded under a Z category VIP cover from now on.
As per a report by the Caravan Magazine in January 2019, Trade documents accessed from the United Kingdom, United States of America, Singapore and the Cayman Islands showed that the National Security Advisor Ajit Doval's younger son, Vivek Doval, runs a hedge fund in the Cayman Islands, an established tax haven. This hedge fund was registered merely 13 days after Prime Minister Narendra Modi's government demonetised all existing Rs 500 and Rs 1,000 currency notes, in 2016.
Vivek Doval's business is linked inextricably to businesses run by his brother Shaurya Doval, who is also a Bharatiya Janata Party politician heading the India Foundation, a think tank that enjoys close proximity to the Modi government.
As per another report by The New Indian Express in December 2017, the Congress questioned the government over its approach to fighting terrorism and corruption, while alleging that National Security Advisor Ajit Doval's son had a business partner based in Pakistan.
Congress spokesperson Randeep Surjewala the quoted:
"On one hand, Amit Shah claims that crackers will be burst in Pakistan (if the BJP loses) while on the other NSA Ajit Doval's son Shaurya Doval's business partner Syed Ali Abbas is a Pakistani. His another business partner is from Saudi Arabia. Amit Shah has no objections on that."
SECURITY COVER CATEGORIES :
Z+ category:
Provided to VIPs and VVIPs.
Has a security cover of over 36 personnel.
Guarded extensively by NSG.
NSG with Special Protection Group (SPG) guards the Prime Minister, former PMs and their immediate family members.
Round the clock personal security.
Contains 28 NSG commandos, an escort, a pilot and tailing vehicles, Cobra commandos and 12 home guards.
Z category: (What Shaurya Doval will get)
Provided to low-profile individuals.
Entails 2 Personal Security Officers (PSOs) and one escort car to an individual.
Has a security cover of 22 personnel including a pilot.
Y category:
Provided to lower-key profile indiviaduals.
Also entails 2 PSOs but without an escort car.
Has a security cover of 11 personnel.
X category:
Provided to individuals with the lowest threat.
Entails only 1 PSO.
Has a security cover of 2 personnel.
The individuals covered under the security blankets include The President, Vice-President, Prime-Minister, Supreme Court and High Court judges, Governors of states, Chief Ministers and cabinet ministers and the service chiefs of the Indian Armed Forces.
The Intelligence Bureau (IB) along with the home secretary and the home minister decides whether a person should get a security cover and if yes, then which category to be allotted.
Follow Your Digital-Akhbaar, Khabarbar on Facebook and Twitter for Real-Time Verified News
RELATED ARTICLES –