Referring to a report to a report published by news magazine, Caravan as 'Yeddy diaries', the Congress party came out on the offensive against the Bharatiya Janata Party.
The report suggests that BS Yeddyurappa was involved in funneling Rs. 1,800 crore to the Bharatiya Janata Party's central committee. The opposition has also accused the top leadership of the BJP of major corruption and demanded answers from the ruling party.
Caravan's story names senior most leaders of the BJP as Arun Jaitley, Nitin Gadkari and Rajnath Singh as well as judges and advocates.
Congress's Randeep Surjewala, at a press conference in New Delhi, demanded answers from the BJP over the news report, asking if the allegations were true. The BJP is yet to comment on the new allegations.
"Is it [the report] true or false? The diary with BS Yeddyurappa's sign on it was with the Income Tax Department since 2017. If that is the case why did Modi ji and BJP not get it investigated?" Surjewala asked at his press conference.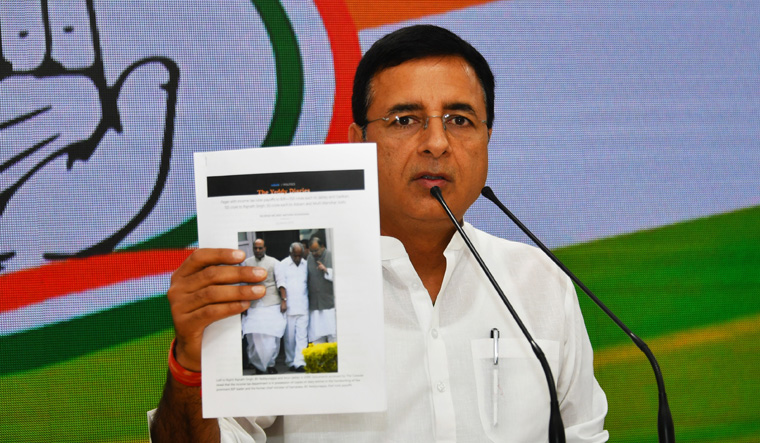 Surjewala also demanded to know who the "beneficiaries" of the money funnelled by Yeddyurappa were and said, "It is a fit case to be investigated by the newly constituted Lok Pal."
He said the Congress party had raised the matter in 2017, when it released a video showing conversation between Yeddyurappa and late Union minister Ananth Kumar. Surjewala said the two leaders talked about the money being paid to the top leadership of the BJP.
Ending the conference, the Congress Communications-incharge said:
"If there is no truth to this diary then why did the BJP not get an inquiry done on this? If this is true then is this not a first-hand report of BJP's corruption? Why is there no independent inquiry of this? Now there is also Lokpal and other independent bodies in place. Chor chowkidar is answerable for this."
ALSO READ-