All England Lawn Tennis and Croquet Club (AELTC) announced the introduction of final-set tie-breaks when the score reaches 12-12. This will make Wimbledon's marathon matches a thing of the past.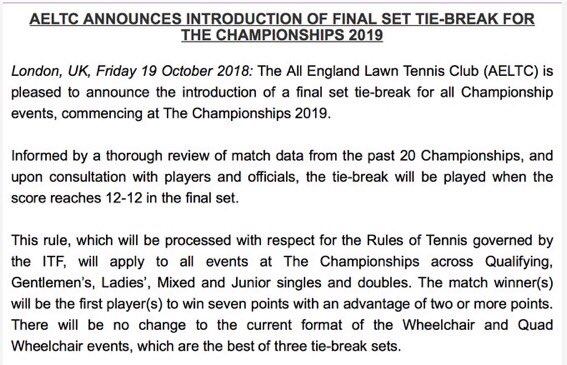 After a series of consultation with players and officials, the AELTC ruled that the tiebreak will be played when the score reaches 12-12 in the final set of all matches at the tournament, singles as well as doubles.
The new rule will apply to all matches at starting next year at The Championships 2019.
In his statement, AELTC Chairman Philip Brook said,
"Our view was that the time had come to introduce a tiebreak method for matches that had not reached their natural conclusion at a reasonable point during the deciding set." 

"While we know the instances of matches extending deep into the final set are rare, we feel that a tiebreak at 12-12 strikes an equitable balance between allowing players ample opportunity to complete the match to advantage, while also providing certainty that the match will reach a conclusion in an acceptable time frame."

"As a next step, we look forward to sharing further details with our Grand Slam, ITF, WTA and ATP colleagues when we meet in Singapore."
In 2010, the spectators witnessed one of the most famous matches in Wimbledon history when John Isner beat Nicolas Mahut 70-68 in the fifth set. The final set took eight hours and eleven minutes then. However, the newly announced change was prompted by another match involving Isner, when the American lost to Kevin Anderson 26-24 in the final set in this year's semi-finals.
Seven-times Grand Slam champion Mats Wilander said he welcomed the decision, referring to Kevin Anderson's epic semi-final win over Kevin Isner this year as "cruel".
The knock-on effect delayed the second semi-final between Novak Djokovic and Rafael Nadal that had to be completed the following day, causing a two-hour hold-up for the women's final.
Singles matches at the US Open are decided by a tie-break at 6-6 and Wimbledon becomes the second grand slam to have introduced final-set tie-breaks at 12-12. Many feel 6-6 is just too soon and this will be a welcome move.
We bring you some of the reactions from Twitter. Is it a thumbs up or a thumbs down for 12-12!
Final set tiebreak at 12-12

Well played @Wimbledon !!!

— Patrick McEnroe (@PatrickMcEnroe) October 19, 2018
Tiebreak with tradition: Wimbledon changes rules to help reduce marathon matches 🙄 I just watch highlights.. pic.twitter.com/8fjyMfeFHE

— Gary Lebel (@garydavidlebel) October 19, 2018
Wimbledon to introduce the 5th set tiebreak (men) and 3rd set tiebreak (women) at noon-noon

— enrico maria riva (@enricomariariva) October 19, 2018
Why I loved the megagames lol https://t.co/bLXb6flSxZ

— Kelvin Tan (@LifelongGunner) October 19, 2018
I'm cool with wimbledon tiebreak. Kinda annoyed that wimbledon couldnt just stick with a regular tiebreak for consistency but thats tennis ha.

— Bri 👩🏾‍💻 (@4TheTennis) October 19, 2018
12-12 final set tiebreak?

Common sense prevails at Wimbledon.

— Chris P (@scoobstennis) October 19, 2018
#Wimbledon 2019

Isner v Mahut

7-6, 6-7, 7-6, 6-7, 12-12 (765-763 in the Tiebreak)

Match finishes in September. https://t.co/EA9YHIClEH

— Niall Hawthorne (@NiallHawthorne) October 19, 2018
I'm actually liking this format, not many of the matches will go to 12-12 in the final set & if they do I think a tiebreak would be the only way to settle the match. Good one @Wimbledon

— Rashmi 🌼 (@drivevolleys) October 19, 2018
ALSO READ –