A video has been going viral, claiming a youth died after his friends rained blows and kicks on him in the name of 'birthday bumps'. After verification of the same, the claim in the video has been found to be fake.
The viral video had been tweeted by the likes of former cricketer Virender Sehwag, who later deleted his tweet.
The video shows a group of boys mercilessly hitting a youth lying on the floor
Two cakes can be seen on a nearby table, indicating that it was his birthday
Towards the ends of the video, the group picks up the boy and brings him towards the table
The claim that went viral was that the boy died the next day as his pancreas was damaged because of the beating
Another social media user who tweeted the video captioned it as:
"A student of IMM died last 2 months ago Reason was, on his B-Day, b'day bumps were given by friends.. Next day he had stomach ache, pancreas was damaged, operated Finally died Pls ask children, not to give B-Day bumps."
WATCH VIDEO:
The video also went viral on Facebook and Whatsapp.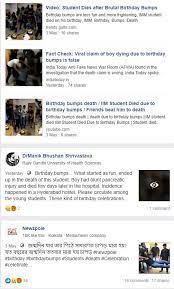 If you do a random search, many NGOs and activists circulated the same as well.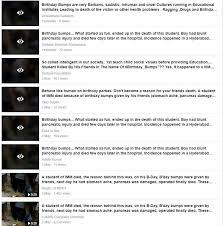 #Khabardar Fact Check
One of the twitter users, Raghuraj, had responded to Virendra Sehwag asking him to delete the tweet as the news was :
"100% Fake"
Raghuraj claimed to be a personal friend of the alleged victim in the video. Sehwag then deleted the post which had been already shared several times.
As per fact check site, Boom Live the group in the video was that of medical students and that the video is from Kyrgyzstan in Central Asia and not India.
When the portal got in touch with Raghuraj, he informed that the incident took place on December 28, 2018 and the youngster was his junior, a student of first year medicine.
He also requested not to disclose the name of the youngster who was subjected to the blows, while adding that birthday bumps was a normal thing at such parties and it was the same that night too.
"However, in the video it looks like things had gone out of hand but it was nothing like that. He is completely fine."
The boy's flatmates, Deepak Aanjana and Amit Singh Parihar too confirmed that the youngster in the viral video was completely fine and very much alive.
#Khabardar Fact Check : Do Not Forward Messages without verifying or checking the source. Help building a better society!
Follow Your Digital Akhbaar, Khabarbar on Facebook and Twitter for Real-Time Verified News