A former junior court assistant of the Supreme Court has accused Chief Justice of India Ranjan Gogoi of sexually harassing her. In a letter addressed to 22 Supreme Court judges on April 19, the victim alleged that Justice Gogoi made sexual advances on her at his residence office on October 10 and 11 last year.
The victim, 35, alleged,
"He hugged me around the waist and touched me all over my body with his arms and by pressing his body against mine and did not let go."
"He told me 'hold me', he did not let go of me despite the fact that I froze and tried to get out of his embrace by stiffening and moving my body away."null
ALLEGATIONS :
In the lengthy affidavit, victim alleged that she was sexually harassed by the Chief Justice of India, was sacked on speaking about it, made to apologise to Justice Gogoi's wife, her brother-in-law was sacked and an old case revived against her husband
The victim alleged that she, her husband, a head constable with the Delhi Police, and their family underwent harassment over the past few months after she spoke about the inappropriate advances allegedly made by Justice Gogoi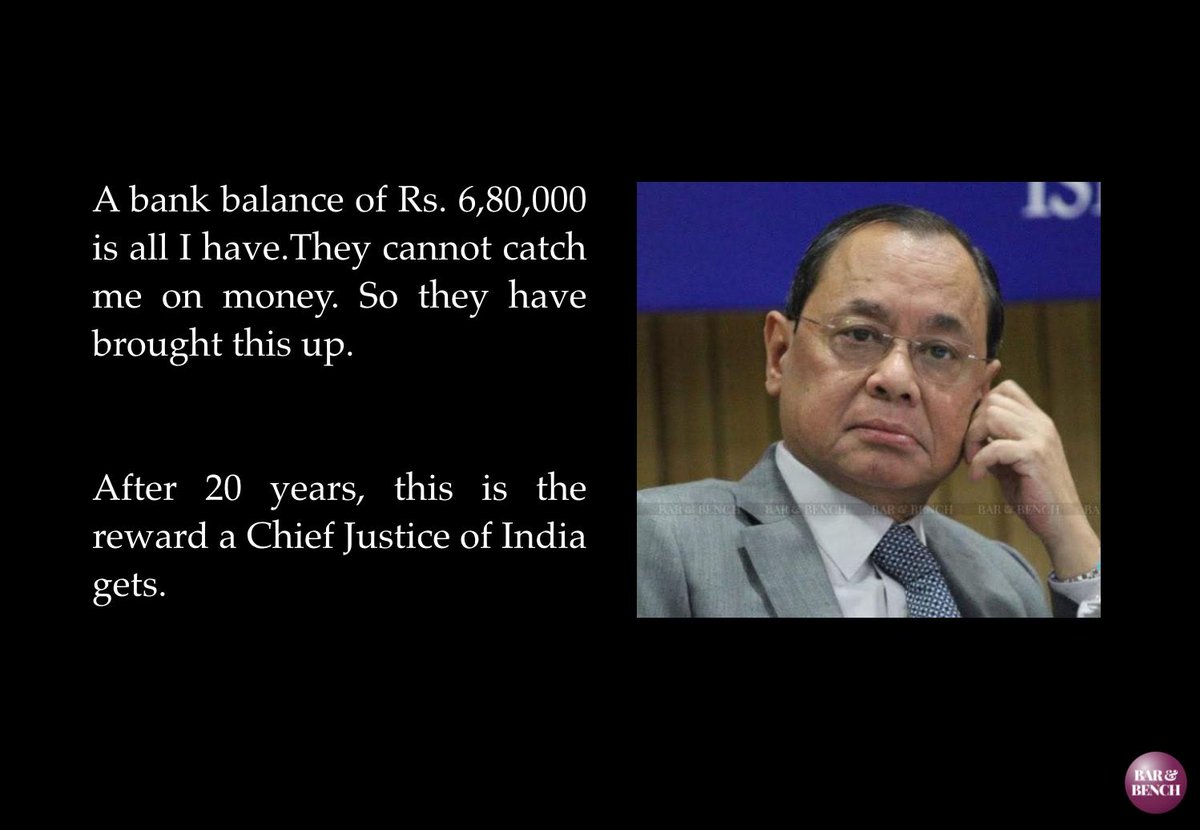 Now, the manner in which the Supreme Court responded on the judicial side to allegations of sexual harassment made by a former employee against the Chief Justice of India could be a textbook example of how not to deal with such a complaint.
An issue that squarely fell within the realm of an internal process was taken up by a special Bench constituted by CJI Ranjan Gogoi, comprising Gogoi himself, Justice Arun Mishra and Justice Sanjiv Khanna
On a 'mention' by the Solicitor-General, it was listed as 'Re: Matter of Great Public Importance Touching upon the Independence of the Judiciary'
There is an internal process to initiate an inquiry mandated by the law regarding sexual harassment at the workplace and a complaint of this nature requires an institutional response on the administrative side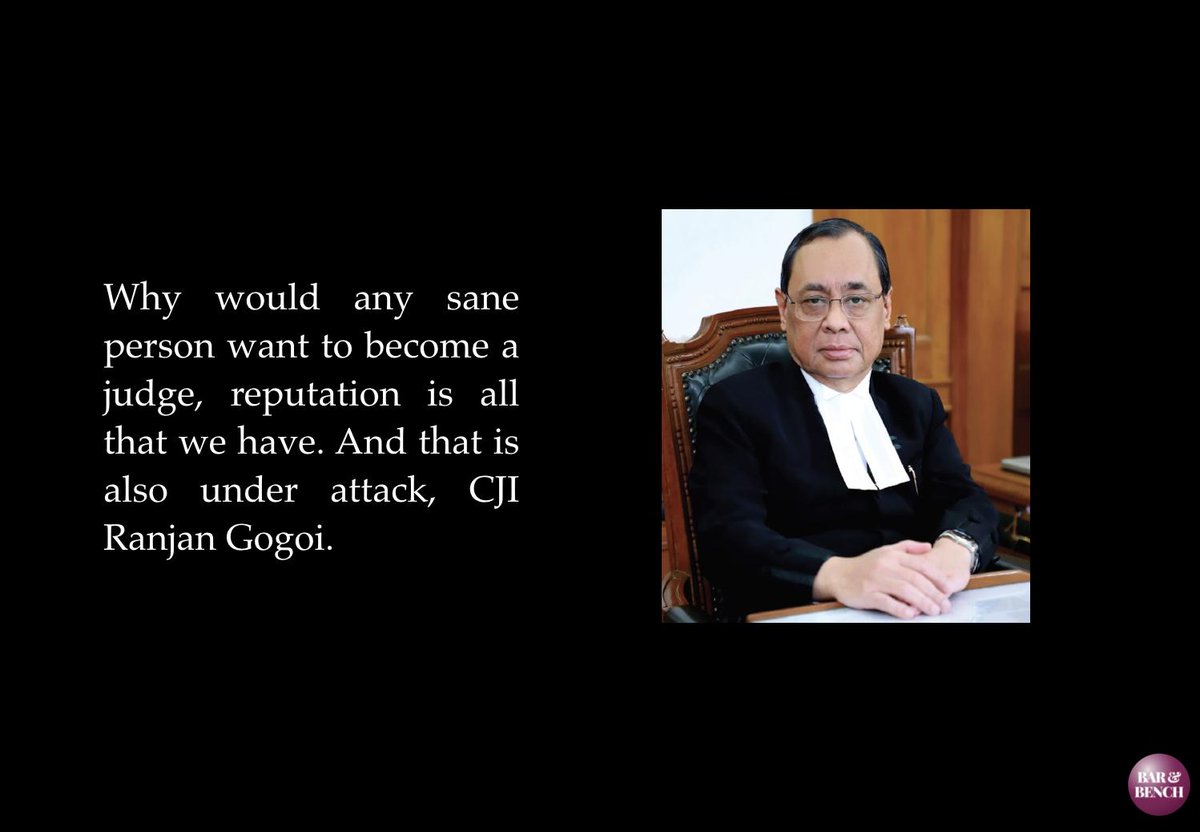 While it is natural for women rights activists / women lawyers and others concerned with the case, to demand the immediate stepping down of the CJI until the probe is over, many prominent Mens Rights Activists have shared their thoughts on the same:
Disclaimer : The article does not support either parties and below opinions are purely against the judicial system that pronounce all men guilty before the final verdict.
Anil Kumar is the Founder of SIFF (Save Indian Family Foundation), which commenced in Bangalore in 2005. The organisation largely works on ground to tackle issues Men face, be it marital domestic problems or fake cases. Currently, unlike NCW, there is no Commission for Men neither the government of India provides any support to this gender in society. Kumar shares his views on the Sexual Harassment Law at workplace and how his team campaigned for 5 years to strive for a balanced act to prevent its misuse.
Anil cites the below in the present Ranjan Gogoi case:
The facts available outside do not establish that CJI is guilty of sexual harassment. There needs to be a thorough investigation to pronounce him guilty or innocent. However, no one is above the law and due process has to be followed
SIFF strongly condemns any misuse of power by CJI to silence the complainant
The bar councils has pronounced CJI as innocent by claiming these are false allegations. However, the same bar councils never cared to stop the 'culture of false cases' in India over the years
SIFF strongly recommends a balanced law rather than merely relying on the #MeToo Lynch mob that asks for sacking of men on just verbal allegations
The identity of both parties should be withheld as naming and shaming of the man before he is legally convicted, scars him and his reputation for life
Rudolph D'souza, popularly known as Rudy on his social media accounts, is the founder of MyNation Foundation and also one of the pioneers who began the Mens Rights Movement in India couple of decades ago. Accordingly to him, Indian Law is not uniform and treats different genders and class differently. He says,
"There is one law for women, one for Babus and one for the common man."
Adding further, he criticises how cases of bureaucrats are decided on top priority and within a few days, whereas a common man's case does not meet the fate for several years, sometimes even decades. He quotes:
"Babus / Bureaucrats are allowed to flee the country, but common man is forced commit suicide. CJI Ranjan Gogoi case is just another example of how a High Profile case is settled. In case of an ordinary man, he is not allowed to preside over his own case, and the law pronounces him as guilty till he proves himself to be innocent. "
The burden of proof in India is not on the accuser, but on the accused. As per D'souza, law takes every word of women as the gospel truth, many a times which are not based on facts or proofs. He categorically mentions, that be it any Government in India, these laws will not be amended since they consider Women as a large votebank.
"No wonder there are crores of cases which remain pending, and some Men and their families are driven to commit suicide."
In Ranjan Gogoi's case, Rudolph sums up:
"The case should be thoroughly investigated. If the allegations are found to be false, she must be sent to prison for seven years while seizing all her assets."
"However, if her accusations are found to be true, then the person in position (here CJI) must be stripped from his post and all ranks, while seizing all his assets. He too must be punished according to the law of the land."
Another noted Mens Rights Activist, Amit Deshpande, President of Vaastav Foundation, emphasises on the dysfunctionality of the Indian Judicial system. He says that every single Chief Justice of India only criticises how judicial system is collapsing, but the criticism happens only once their term has ended. Unfortunately, none of them have taken any balanced steps to curb the misuse of this menace while being on the chair. He quotes:
"Present CJI is saying he's being targeted because he's the CJI. This could be true, but will he support the same logic for common men who could be in position of power and have been targeted in a false case. They could be senior level executives in a corporate, entrepreneurs or merely husbands?"
In the present case, the defence available against the accused is insufficient and thus CJI is using his privileges to swing it in his favour. However, Amit questions if these same privileges will be extended to a common man if he finds himself vulnerable?
On behalf of several falsely accused men, Deshpande suggests that character assassination of all people needs to be stopped until proven guilty. Just like the names of victims/women are not disclosed as per law, names of men should also be withheld until conviction. This would strongly discourage many women the incentive of a false accusation, merely to settle a score by tarnishing reputations of innocent men built over decades.
Further, Amit too affirms that if allegations are found to be false and fabricated, the accuser must be jailed.
"Without the fear of consequences of a false case registration, we will be fooling ourselves as being a civilised society."
Roopenshu Pratap Singh, Advocate, Supreme Court of India and
President (North India), Save Indian Family Foundation (SIFF) shares a similar sentiment as quoted by above Activists:
"When any allegations of 'crime against women' are alleged on a common man, the whole mainstream media and women rights groups, declares the person guilty, as soon as the complaint filed against that man. They do not understand the gravity of the situation and its impact on the life of the alleged accused person."
Singh says in normal circumstances, a man will go through mental trauma, find himself secluded and discriminated due to misandrist view of society, and many a times result in suicide.
"There should be an end to this discrimination with Men, in the effort of empowering women in society."
Coming to the case of Ranjan Gogoi, Singh refrains to comment on the nature of the allegations as true or false. However, he cites the conduct of the proceedings which could be referred to as flawed. Roopenshu sums up:
"I believe in the present circumstances of CJI case, concept of equal punishment for the complainant should come into force if these allegations are found to be false."
Saurabh J, alumni of IIT Madras, entrepreneur and a single parent to two young boys exposes the duality of various pillars of democracy. According to Saurabh:
"When a common man is accused, the media, police, society and others at large harass the accused and his family as if they were all criminals. The judiciary too takes its own time to dismiss even the most farcical of cases, while the Complainants indulge in forum hunting."
Adding further, the ex-IITian says that in the present scenario, the allegations are being treated as if they have been made not just on CJI, but against the entire institution of Indian Judiciary. Thus it appears that Democracy today, itself is threatened. The speed at which everyone is working on fast track basis, is not a privilege a common man enjoys in this country.
"Does the common man have no reputation when his home and career is destroyed? Or does that pass off as mere collateral damage while the wheels of justice take years to rotate? Such accusations, if false, have been ruining the livelihoods of dozens of families over the years, yet the government simply chooses to look the other way."
Sanjukta Basu, who is a vocal feminist also had a different viewpoint on this case. She said she was no longer in the camp that blindly believes any #MeToo story, especially against someone who had the power to pass judgements in several politically linked cases in the near future.
Basu also cited why she trusted women who faced the world with the #MeToo allegations as against a case which found to be suspiciously motivated.
KEY TAKE-AWAYS :
Should CJI Ranjan Gogoi's #MeToo Allegation case be a wake up call for Indian Judiciary to bring in more balanced Gender Laws?
Will the process that is followed in Gogoi's case, become a precedent going forward for all #MeToo or Sexual Harassment cases?
Should names of allegedly accused Men "Not be Disclosed" just like the way names of alleged victims are withheld?
Should there be a strict law to punish any woman who is guilty of filing a false case, tarnishing the life of an innocent man?
#MeToo should not be a perception battle, but timelines, guidelines and actionables must be laid down properly by Indian Judiciary with immediate effect
Both women and men should be heard without any bias, especially in a society where we believe Men can be the only predators
RELATED ARTICLES :