In yet another case of rash driving, a 20-year-old girl was killed and her 18-year-old sister injured when they were knocked down by a BMW on Monday evening. The accident occurred when the two sisters were crossing the NH-4 near Gandhi Nagar in Belagavi, Karnataka.
Kyle Souza Ticlo, the son of Goa BJP MLA, Glenn Ticlo, was at the wheel at the time the incident occurred. He was arrested by Belgaum Police and booked for culpable homicide and rash and negligent driving. However, he was subsequently released on bail.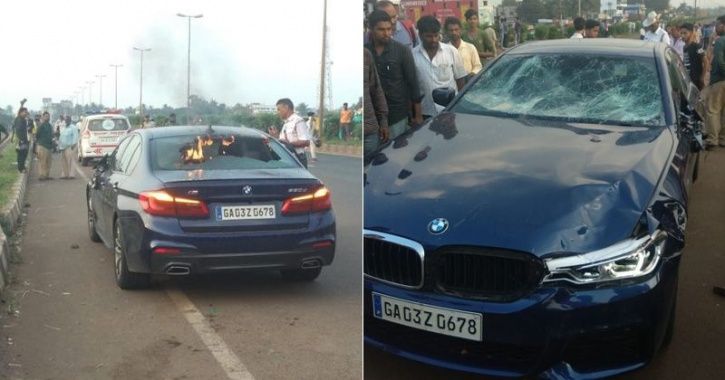 The incident took place at 6pm on Monday on the outskirts of Belgaum city when Kyle was returning to Goa in the BMW vehicle registered in the name of his father. Violence was caused immediately after the dreadful murder.
Tehniyat Waheed Bishti, the deceased, was attempting to cross the road when she was knocked down by the luxury car. Irate residents of the area set fire to the vehicle, which was promptly put out by the police who dispersed the crowd gathered there and took the driver in custody. A short video clip of the incident showed police dispersing the crowd damaging the vehicle.
Officials at the North Belgaum police station told local reporters they have arrested one person for damaging the car belonging to the MLA.
M Killedar, an eyewitness, said an angry mob gathered at the spot and broke the windshields of the car and tried to set it ablaze. They also blocked the NH4 for 15 minutes.
The Police detained 25-year-old Kyle Ticlo for questioning and he had been sent for a medical test. Kyle has been booked for rash and negligent driving. They claimed that Kyle was speeding and had lost control of the vehicle.
With inputs from Hindustan Times
READ MORE – 
SUV with BJP Leader sticker runs over sleeping persons on pavement, 2 dead on the spot