Are you one of those living in Mumbai, who was in for a rude shock with your electricity bill last month?
Adani Electricity recently took over Reliance Power's Mumbai distribution, which was responsible for power supply to approximately 27 Lakh Mumbaiites. Last month, as per a confirmed estimate, nearly 80,000 consumers of Adani Electricity received bills which was above the regular monthly billing amount and not on actual meter reading.
There was a sudden outpour on social media with regards to the inflated bills, however, Adani Electricity had rubbished the outrage as mere 'rumours' via their tweet on 16th November. They urged people to believe that they were transparent in their billing process and also requested them to reach out to their customer care directly (instead of writing publicly).
In light of recent events, we think it is imperative to reach out to you & address queries related to meter reading & tariff levied by MERC. We believe in transparency & accountability, & urge you to reach out to us through our customer care in case of any issues. #PowerOfService pic.twitter.com/ehMUqxcS61

— Adani Electricity (@Adani_Elec_Mum) November 16, 2018
Rumors are many but the truth is one. Adani Electricity believes in being ethical and transparent at all times. In case of any further queries or doubts, please reach out to us through our customer care. #PowerOfService pic.twitter.com/LU7rR4AvsW

— Adani Electricity (@Adani_Elec_Mum) November 16, 2018
They also attributed the increase in bill amounts to the revised tariffs affected by the Maharashtra Electricity Regulatory Commission (MERC) with effect from 01st September this year.
However, as per the Maharashtra Electricity Regulatory Commission (MERC) regulations, the distribution company can send average bills taking into account last three months average and in the subsequent month adjust the bill so that it does not cross the electricity consumption slab limit comprising 0-100, 100-300, 300-500 and 500 and above.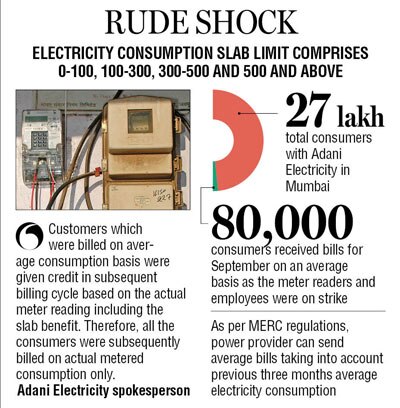 In an exclusive interview to the DNA, Adani Electricity spokesperson said that there was an on-going internal agitation, owing to past issues because of which meters could not be read for 5 days. He also added that due to this the billing during such period was done based on last three months average consumption as per MERC guidelines. He also said that Adani Electricity had voluntarily extended the due dates of bill by five days and also empowered its esteemed customers with an option to "read your own meter".
The company has now taken the initiative and sent revised bills for the customers who shared their meter readings. The spokesperson confirmed,
"Customers which were billed on average consumption basis were given credit in subsequent billing cycle based on the actual meter reading including the slab benefit. Therefore, all the consumers were subsequently billed on actual metered consumption only."
Clarifying the company's stance and policy, the spokesperson also claimed that the Adani Electricity rates were cheaper compared to Tata Power in most of the consumer categories.
However, the local Mumbai Congress has been agitating about this issue since long. On 20th November, khabarbar.com had reported about Sanjay Nirupam, Mumbai Congress President, leading the charge on demanding accountability from the authorities and Adani Power with regards to this sudden increase of bills, some even to the extent of 50%!
READ BELOW –
Mumbaikar's Face 50% Hike Suddenly with Adani Power Electricity Bills
The opposition has been constantly questioning this loophole which has led to instant rise in pricing after Adani Electricity took over.
Mumbai Fumes Over Electricity Bills,
Goregaon resident was used to spending an average of Rs 3,000 every month for electricity. But he was shocked when he received the bill for October. It was double the usual amount he used to pay. #ElectroLoot https://t.co/3DVtZEP3wX

— MumbaiCongress (@INCMumbai) December 2, 2018
If this atrocious hike in electricity bills isn't curbed with immediate effect, Gautam Adani might have to leave the power business of Mumbai soon: @sanjaynirupam President, Mumbai Congress https://t.co/C5v6g0uyBZ

— MumbaiCongress (@INCMumbai) December 2, 2018
गले में #अदानी का महँगा बिजली बिल और हाथ में 1000₹ से भी महँगा #LPG सिलिंडर !
महिला काँग्रेस की बहनों ने पूरे मुंबई में परसों ऐसा आंदोलन छेड़ा कि राज्य सरकार सकपका गई।
महँगी बिजली के ख़िलाफ़ जाँच का आदेश दे दिया।
हालाँकि यह सरकारी टाइमपास है।पर हम भी बिजली सस्ती कराके मानेंगे। pic.twitter.com/zHhqXinQ4x

— Sanjay Nirupam (@sanjaynirupam) December 2, 2018
Considering the ire of the people and constant push by the opposition, the Maharashtra Electricity Regulatory Commission (MERC) has now sought an explanation from Adani Electricity in this regard.
In its communication sent on Tuesday to Adani Electricity by MERC Executive Director (ED), Rajendra Ambekar said that the regulator had taken a serious note of consumer grievances. Adding further, he said that many consumers complained that there was surge in their electricity bills which is not commensurate with the marginal hike in the tariff approved by it.
"I have been directed to seek explanation from Adani Electricity Mumbai (Distribution) within 24 hours detailing facts of the matter and the steps taken by it to remedy the situation," Ambekar said.
He said, from the media reports, it was observed that large sections of Adani Electricity's consumers are continuously agitating against unduly excessive electricity bill received by them recently. There were complaints of electricity bills allegedly being issued based on average energy consumption instead of actual meter reading. Therefore, MERC has sought an explanation within 24 hours from Adani Electricity.
Ambekar confirmed that MERC had issued the mid-term review order on 12th September and thereby revised the tariff applicable in the area of Adani Electricity business with effect from 1st September. However, the average tariff increase approved in the mid-term review order for 2018-19 was only around 0.24% and the hike was not proportionate to the revision in tariffs approved by the MERC.
Adani Electricity's spokesperson has confirmed receiving this communication from MERC and they shall be making their submissions as per the direction of the Commission shortly.
However, Adani Electricity clarified that the tariff increase is not related with Adani taking over Mumbai distribution business. They have referred it as a mere coincidence that the timing of tariff revision coincided with the takeover.
Further, they have justified that the electricity consumption rises in the month of October every year after Monsoon, due to increasing temperatures and humidity. One of the spokesperson even boasted that the company was instead receiving several applications for shifting from Tata Power to Adani Electricity.
ALSO READ –