On Sunday, Prime Minister Narendra Modi dismissed the grand alliance in Uttar Pradesh as an arrangement of convenience between "opportunists" who intend to steal the people's wealth by playing the caste card.
Addressing an election rally in Hardoi (UP), evoked the caste card by accusing Bahujan Samaj Party (BSP) chief Mayawati of betraying her ideology by allying with "those opposed" to Dalit ideologue and social reformer BR Ambedkar. He was referring to Samajwadi Party chief Akhilesh Yadav.
"Some people who seek votes in the name of Babasaheb Ambedkar have never learnt anything from his life. Mayawati is seeking votes for those who oppose Babasaheb Ambedkar. This happens when your only goal is to get the chair."
"This happens when your politics is based on caste, and when you do not care about the country. This alliance of opportunists wants a helpless government because its mantra is jaat-paat japna, janta ka maal apna (Chant on about caste, loot the people's money)."
Also hitting out at Prime Minister Narendra Modi over his stance on caste and his "origins as a chaiwala", was senior Congress leader P Chidambaram, who asked if the PM considers people :
"a bunch of idiots" who have suffered memory loss.
The former finance minister's scathing attack on the Prime Minister came a day after Modi said in Kannauj that he "does not believe in politics of caste."Chidambaram tweeted.
"Mr Narendra Modi is the first person who became PM later who campaigned wearing his caste on his sleeve (2014): 'I am an OBC'. Now, he says he has no caste!"
"In 2014 and thereafter, he said repeatedly that he is proud that the people elected a chaiwala as PM. Now he says, he never mentioned his origins as a chaiwala!"
"What does the PM take us for? A bunch of idiots who have large memory losses?" he asked.
CLICK ON THE LINK TO WATCH NARENDRA MODI CONSTANTLY USING CASTE CARD WHILE PROMOTING BJP
https://economictimes.indiatimes.com/news/politics-and-nation/pm-modi-opposition-unable-to-digest-bjps-bonhomie-with-dalits/videoshow/63648768.cms
The move by Modi, announcing 10% quota for all economically backward, including the upper caste just before Lok Sabha Elections, is also seen as as masterstroke when it comes to playing "Caste Politics" by the NDA government. Click below for report.
https://economictimes.indiatimes.com/news/politics-and-nation/big-move-by-modi-government-ahead-of-polls-announces-10-quota-for-upper-castes-reports/articleshow/67418661.cms
It must be recalled how by bringing Modi and highlighting his backward caste in 2014, the BJP has sought to revisit and redefine the OBC discourse in northern India, which had so far been monopolized by the SP in UP and Lalu Prasad Yadav's RJD in Bihar.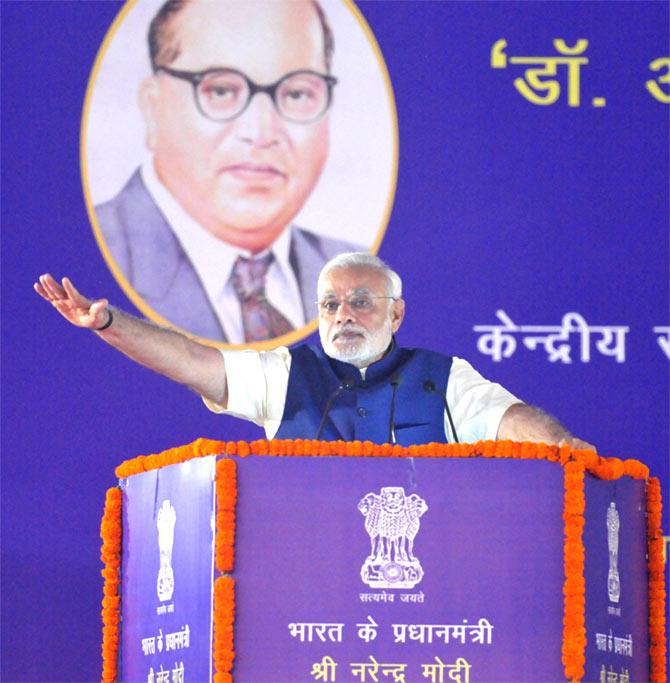 Modi thoroughly planned to alter the electoral arithmetic in Uttar Pradesh, and was quick to realize that this was not possible without playing the caste card and tapping the OBC vote. One had never heard him declaring himself as an OBC all through his state politics and tenure as Chief Minister of Gujarat.
Follow Your Digital-Akhbaar, Khabarbar on Facebook and Twitter for Real-Time Verified News
ALSO READ –