Beware of what you read and what you share. In the age of randomly forwarding messages through social media, rumour mongering without checking facts can be harmful to society.
Below message has been widely spread across whatsapp channels, which reads:
"Those who hold Indian passport, can now vote online for 2019 elections."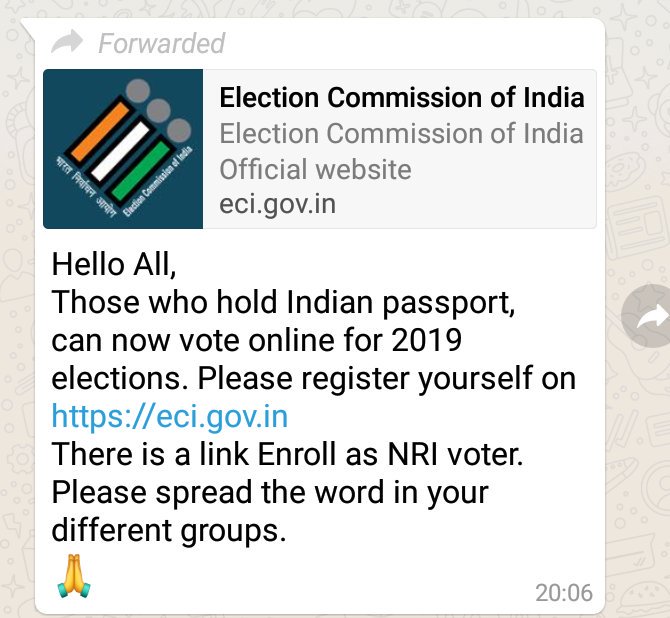 Another message which has been shared several times on Facebook using a screenshot of the official website of the Election Commission reads,
"Hello all, those who hold Indian passport can now vote online for 2019 elections. Please register yourself on https://eci.gov.in. There is a link Enroll as NRI voter. Please spread the word in your different groups."
The Election Commission of India (ECI) has filed a complaint with the Delhi Police, asking it to track down all those spreading "fake news" that NRIs (Non-Resident Indians) can cast their vote online in the coming Lok Sabha elections.
The ECI also complained that its logo was used on social media to "mislead" people. The "fake news" was in violation of IPC Section 505 dealing with rumour-mongering and attempts to spread alarm among people.
In February this year, an ECI spokesperson said no such facility had been extended to NRIs.
"If it happens, it needs amendment to the Representation of the People Act. No such amendment has taken place," he said.
The EC even posted a warning on its official website, saying that NRIs would need to fill up Form 6A to register as voters and will have to physically appear at their designated polling stations to cast their votes.
As of now, overseas Indians have to register as voters, come to India, go to their constituency with the original passport issued to them when they had gone abroad and cast their votes.
As per the data shared by Ministry of External Affairs, there are about 3.1 crore NRIs living in different countries. An expert committee of the ECI had said no to e-voting for NRIs but approved proxy voting.
A bill to extend proxy voting rights to NRIs was passed in the Lok Sabha recently, but it is still pending in the Rajya Sabha. The same is set to lapse on the dissolution of the present Lok Sabha on June 3.
ALSO READ –