As per a latest RTI query, the Central Public Works Department (CPWD) has spent more than Rs 100 crore on the renovation and furnishing of the bungalows and offices of Union Ministers over the last five years.
The RTI application had been filed by The Indian Express, where CPWD, which is the executing agency for these works, stated that
Rs 93.69 crore were spent on renovation
Rs 8.11 crore on furnishing of the bungalows and offices
….of the NDA Ministers. The print media mentioned above had asked the CPWD to provide the "details of expenses made on the renovation/furnishing etc of the offices and residences of Union Ministers and Union Ministers of State during 2014-15, 2015-16, 2016-17, 2017-18 and 2018-19."
The list of these ministers are as follows:
Total 70 Ministers in Prime Minister Narendra Modi's Council of Ministers
Out of these 70 ministers, 25 are Cabinet Ministers
11 Ministers of State (Independent Charge)
34 Ministers of State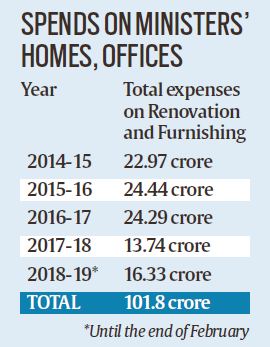 Information was sought for individual Ministers, however, the CPWD chose to provide only cumulative figures in its response.
These figures are from April 1, 2014 to February 28, 2019. The government took oath on May 26, 2014 and it is possible, that a small part of these expenses were incurred fell in the last 56 days of the UPA government. However, CPWD does not take up much new work once Lok Sabha elections are announced.
On March 9, a day before Election Commission declared election dates, the Delhi Development Authority (DDA) issued a draft notification for changing land use of 2.189 acres at Deen Dayal Upadhyay Marg from 'group housing' to 'public and semi-public facilities'.


READ REPORT –
BJP HEADQUARTERS, NEW DELHI
With an area of over 1.70 lakh sq ft, the BJP's new headquarters was inaugurated at the Deen Dayal Upadhyay Marg, New Delhi, in February 2018 where BJP President Amit Shah said:
"It is bigger than the office of any other political party in the world."
Shah also said the BJP is on the course of having its own office in almost every district of the country in a year's time and noted that the party, at its national executive meeting in 2015, had decided to own an office in 635 of 694 districts in the country.
Follow Your Digital-Akhbaar, Khabarbar on Facebook and Twitter for Real-Time Verified News.
ALSO READ –