Dawn revealed a devastated coastline in central Sulawesi where the tsunami triggered by a magnitude 7.5 earthquake on Friday smashed, into two cities and several settlements. Initial reports suggested the injured toll could be around 350.
The city is built around a narrow bay that apparently magnified the force of the tsunami waters as they raced into the tight inlet. Thousands of buildings either collapsed or were swept away by water in Palu City, Indonesia, leaving scores trapped in the debris, sleeping outdoors or severely wounded.
At least 48 people have died since Friday and authorities are warning that the death toll may substantially rise in the coming days, Indonesia's Disaster Management Agency spokesman Sutopo Purwo Nugroho said.
Rescuers scrambled Saturday searching for survivors and carrying bodies away from the debris after a series of earthquakes and a tsunami struck the Indonesian island of Sulawesi.
After a local hospital was severely damaged, medical officials opted to treat dozens of wounded residents just outside the building, Nugroho said. Authorities are urging residents to not go inside their homes and sleep away from building on fields, roads or yards because of possible aftershocks.
The horrific scene began Friday when the first in a series of tremors was felt at 3 p.m. (4 a.m. ET) 35 miles north of Palu, according to the United States Geological Survey.
The tsunami was "about three meters high," Nugroho said.
The shaking of the 7.5-magnitude tremor was "severe" and the likely damage following the quake was considered "moderate to heavy," the USGS said.
A localized tsunami also hit beaches in the cities of Palu and Donggala as a result of the tremors, according to the BNPB.
An early tsunami warning had been issued by the Indonesian meteorological agency, but was later lifted after the agency ascertained that the water had receded. Indonesian TV showed a smartphone video of a powerful wave hitting Palu at dusk, with people screaming and running in fear. The water smashed into buildings and a large mosque already damaged by the earthquake.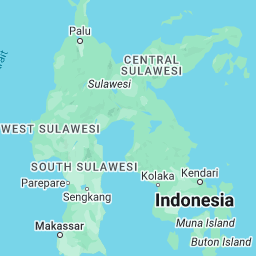 Communications with the area are difficult because power and telecommunications are cut, hampering search and rescue efforts.